Member Spotlight - Angels Rest on Resurrection Bay
It's often said that people make the place, and we couldn't agree more. Our spotlight series introduces you to the Seward Chamber of Commerce members who make our community an incredible place to live, work and play.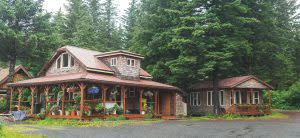 Angels Rest on Resurrection Bay encompasses the charming. With three modern waterfront cabins on the shores of Resurrection Bay and a larger building with four rooms, the unique lodging business is home to spectacular views, romantic accommodations, and welcoming hosts. Lynda Paquette and her husband Paul met while Paul was building the first cabin for Lynda's new business, which was completed in 1999. The couple were married in 2003 and — the rest is history!
"There is a life-long story of seeking my soulmate behind this journey," Paquette said. "I found him here on Lowell Point less than a thousand feet from the land I purchased. He'd been waiting for me to show up."
Angels Rest has continued to grow from that one cabin to the property as it's known today.
"My property offers three romantic, completely modern and luxuriously furnished cabins for two guests," Paquette said. "My husband built everything and adorned it with his special style of Silhouette Shingle cedar art. There's no place like this in the world."
Angels Rest can accommodate a variety of guests, with an ADA compliant cabin, and is often noted for its cleanliness and the small touches - like binoculars to spot the variety of wildlife guests may see from the property!
Get to know Lynda and Angels Rest more with a Q&A below!
How long have you lived in Seward? What first brought you here?
I have lived on Lowell Point since 1997. I came here after a near-death experience to create a business in this divine location so that everyone could experience heaven on earth at least once in their lives.
What do you like most about living and working in Seward?
The natural beauty of the area.
Tell us about a community member in Seward who you admire.
Recently elected Mayor Christy Terry is someone I'm admiring a lot lately. I think she is a beautiful human being and I appreciate her service to Seward.
How do you spend your free time?
I spend my free time volunteering or working as an author. I volunteer through Civic Engagement, live streaming government meetings and teaching civics classes. I am the President of Civic Engagement Inc., a 501(c)3 we recently formed so we can apply for grant funds to support the Seward Civic Engagement work I've been doing. I am currently teaching A Course In Miracles both Daily lessons and text reading and study on Sundays through Love By LIGHT which is a part of a different business I run centered around my authorship. The rest of the time I'm either writing or shooting educational/inspirational videos.
Where's your favorite spot in Seward to unwind?
Lunch or Brunch at The Cookery
Describe a risk that you've taken in your business that paid off.
I cashed out my 401k in 1997 and bought raw land with the intention of growing my business to be my retirement. That worked out quite well since the stock market crashed. I would have lost almost everything. Also, I have always required a minimum stay of 3 nights in the waterfront cabins in the summer (unless there was a smaller opening). People told me I'd lose business if I did that. I haven't.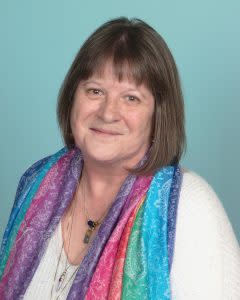 What advice would you give to a new business owner who is working to build a business like yours?
Trust your instincts and learn, learn, learn. Join the Professional Association of International Innkeepers. I wish I'd found them sooner!
If your life was a book, what would the title be?
My Long Road Home to Alaska
There are so many great wilderness areas to explore around Seward and Kenai Fjords. If you had a free weekend, where would you go?
As I write this we have chickens, so no weekends away for us, but I love to hike out to Tonsina or to Troop Lake. I feel fortunate to be able to walk to the beach every day.
Is there anything exciting on the horizon that you'd like to share?
We celebrated our 20th Anniversary in 2019 and will launch a fresh new website sometime in 2020!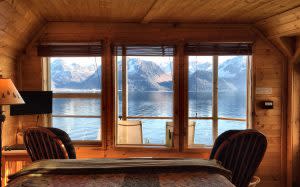 ***
Want more information about Seward or our Chamber of Commerce? Call 907.224.8051.