Small businesses across the world are feeling the impact of COVID-19, especially those that rely on summertime traffic.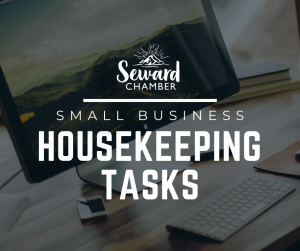 It may be hard to see a silver lining in all of this, but look at it this way: you can finally have time to work on some tasks you have been putting off and make changes that will help you and your business come out of this stronger and more focused than before. Here are some tips and resources you can use to help refine your business during this time.
Communications and Marketing
Develop a COVID-19 Statement.

If you haven't already, it's important to address the COVID-19 pandemic and establish a statement that includes how your business is operating at this time and any changes that may be on the horizon. During a time of extreme uncertainty, your clients will appreciate hearing from you-- even if you don't have all the answers at the moment. Creating an FAQ or updating the one on your site to address some of the major concerns at this time might be helpful. Feel free to use or share the Visit Seward COVID-19 response video from the Seward Chamber of Commerce that reminds followers of our

https://vimeo.com/409054026

"Staycation" Marketing for Local Alaskans.

The local travel mandates will lift eventually, and when they do, Alaskans may be itching for a 'staycation'. While it's not appropriate to market this now with mandates in place, it is a good time to develop some language around staycation marketing. ​Consider including perks like late checkout, discounts for extended stays, or tickets to the Alaska Sealife Center included in the package. We know Alaskans love their summertime months in the land of the midnight sun, and even if our tourism numbers are low, we can count on locals to fill some of that void.
Here are some resources for responsible marketing strategies:
Update Your Website, Profiles, and Visuals
Rack Cards. Rack cards are one of the best advertising tools you can invest in. Now is a great time to update your cards and restock the Visitor's Center and other popular destinations around town.
Website Update. Review each page of the site to make sure its content is accurate and relevant. Make revisions and declutter— look at pages and posts to see if anything can be recycled or upgraded to better serve your audience. Check to see if anything needs to be changed or updated with regards to COVID-19. See the article Spring Clean Your Website for more tips and ideas.
Social Media and Other Profiles. Now is a great time to take control of your online presence. Update any profiles or listings on pages like Yelp, TripAdvisor, Airbnb or VRBO. If you haven't already, get your business on Google and use the online training resources. Look into free classes and resources that can boost your business through social media channels like Facebook and Instagram.
Professional Associations
Connect With Resources in Your Area. Review the perks of your Seward Chamber of Commerce Membership and take a minute to update your chamber profile and listings on the member portal.
Co-marketing opportunities. The State of Alaska supports tourism marketing through a capital grant administered by the Alaska Travel Industry Association. ATIA offers a variety of cooperative marketing programs for members and non-members alike. Now is a perfect opportunity to connect with other local businesses in your area. Some ideas to consider:

Group packages

Co-promoting to cross-over audiences

Build a local and regional referral network
There are many ways to promote yourself while strengthening relationships or creating new ones with other local businesses. In working together you can help curate fulfilling, unforgettable experiences for visitors and develop repeat customers.
The Seward Chamber of Commerce is here for its members during this crisis, just let us know how we can help!