Quiet trails and special deals await in Seward this winter!
Winter transforms Seward from a bustling visitor hub to an oasis for Alaskans to play and recharge. To celebrate this special season, we've launched our Winter Weekends event series. Enjoy quieter trails, fun activities and special discounts before the crowds return!
For Valentine's Day and President's Day weekend, we've developed an itinerary for couples looking for a low-key romantic getaway, singles and friends who crave some time away from the hustle and bustle of the city, and families looking for an exciting weekend adventure.
FRIDAY
Know Before You Go
Seward Highway is generally well maintained, but it's always a good idea to check the travel conditions before you hit the road. Make sure your winter car emergency kit is well stocked before you leave home.
Where to Stay
Located right on the water with a stunning view of the Seward boat harbor and Mt. Alice, the Harbor 360 Hotel is a great option for families and couples alike. Families with children are especially fond of the indoor pool that overlooks the harbor and the convenient continental breakfast.
The Breeze Inn, also located near the harbor, is offering special weekend deals as well. The Restaurant & Bar at the Breeze Inn is a local favorite with a great view & superb staff.
If you're looking to stay downtown near shops and restaurants, the Hotel Seward has a unique, historic style that guests love. For couples who call to book and mention Valentine's Day Special, wine and strawberries will be in your room upon arrival.
Looking for peace and quiet this weekend? Serenity by the Sea and Miller's Landing on scenic Lowell Point offer charming private cabins perfect for couples on a romantic getaway.
What to do
First, make like a local and head to Resurrect Art Coffee House to enjoy a lovingly-made espresso or rejuvenating tea. Soak up the light streaming in through the historic windows—the building, formerly a church, recently celebrated its 100th birthday—and browse jewelry, ceramics, and other art made by Seward residents.
Next, it's time to treat yourself. The Retreat, Seward's only full-service spa, offers indulgences from manicures to full-body massages. A relaxing Tulasara facial ($75 February special, 60 minutes) will leave your skin hydrated and refreshed. Many of the facials and massages include complimentary use of the sauna to flush toxins and a shower to energize you before heading out into the world. Call ahead to book your appointment!
Start out near the harbor to see the new location of Forests, Tides, and Treasures to browse their wide selection of local art, alaskan made goods, and outdoor gear.
Head to historic Fourth Avenue to browse the unique collection of shops in our downtown district. Ranting Raven offers a selection of handcrafted goods and jewelry made in Alaska.
Across the street is Seward's oldest family-owned business, Urbach's Clothier, which offers unique clothing lines and shoes for men, women, and children. Look for Winter Weekends deals inside, like 30% off select items.
A few doors to the north, drop into Sew'n Bee Cozy to browse a variety of colorful textiles.
Looking for a treat or specialty drink? Try Frontier Trading Post for a delicious and nourishing Golden Milk Latte or some of their house-made healthy goodies.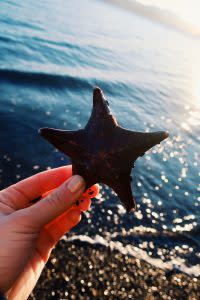 Wanting something more active? Miller's Landing is offering a half-day sea kayaking trip to Tonsina Beach where you'll make hot cocoa and s'mores-- they are currently offering a $200 package deal for couples.
Whether you're looking for a lighter lunch or something warm and comforting, you'll find it at Woody's Thai Restaurant. Named after the iconic SeaLife Center's playful sea lion, Woody's offers fresh, nourishing dishes of Southeast Asia. Start with some crisp summer rolls and share some local favorites like the Tom Yum Soup or Penang curry.
After checking out the local shops, grab a bite to eat at one of Seward's legendary family restaurants like Apollo Restaurant (known for hand-tossed pizzas and generous salads).
The next day, start off your day in Hotel Seward's intimate Victorian lounge by ordering a signature Eggs Benedict with homemade hollandaise sauce at Ms. Gene's Place (221 5th Ave).
Before leaving town, take a scenic drive down Lowell Point Road. Walk the beach at the Lowell Point State Recreation Site and lose yourself in reflection before heading back to hustle and bustle of the city.
***
Have a question about winter activities? Contact the Seward Chamber of Commerce at 907.224.8051.
Visiting Seward with your family? Check out our 36 Hours in Seward: Winter Fun For Families.
***
Feature Image: Sea Lions basking in the light in Resurrection Bay. Photo: Marissa Amor