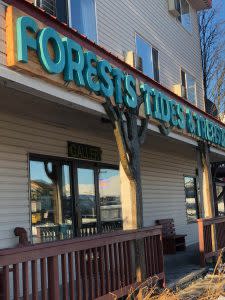 Among the hustle and bustle of the Seward Boat Harbor, Cliff Krug and Linda Chichester of Forests, Tides & Treasures have a wonderfully curated collection of outdoor gear, local art, and gifts available in their retail shop.
"We provide locals and visitors a wide range of unique high quality products and knick-knacks, ranging from name brand outdoor gear and footwear to local Alaska art and artisanal products, to hand-made gifts and souvenirs along with a consistent sale area," said Cliff.
Cliff and Linda have recently expanded Forests, Tides & Treasures to the digital realm, with a new eCommerce site that launched on Sept. 4! Shoppers can now visit foreststidesandtreasures.com from anywhere in the world and explore their wide selection, which is always growing.
"Salmon Sisters will be joining us in Oct 2020 and Cotopaxi, Salomon Footwear, and Merrell Work footwear will be joining us in the Spring 2021. There are a few other surprises that we are working on and hope to announce soon," said Cliff. "We are also starting to get our Fall orders in now, which is always a little like Christmas for us. There are always lots of things going on here for sure."
Cliff and Linda have been members of the Seward community since 2015, after moving from Girdwood and in that time have become strong community members.
"Our store is a reflection of the relationships that we have built with our artists, artisans, vendors and our community members. We are all partners in what Forests, Tides & Treasures is today," said Cliff.
Learn more about Cliff, Linda, and Forests, Tides & Treasures below!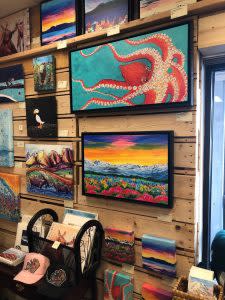 What is the best compliment your business has ever received?
Word of mouth- we get a lot of people that visit us because someone told them. We actually had a women that came to Seward this season from Denver because her neighbor recommended it to her. And one of the places she said she had to visit was our shop. That is humbling.
Tell us about a community member in Seward who you admire.
So many. So many. We would have to signal out two here: 1. Nicole Lawrence- where would we be without her? She is one stop everything you need and want in your life- realtor, business confidant, adventurer, therapist, friend, listener and just one happy person. This Community is better because of Nicole. 2. We also absolutely love Dave and Sherie Fryxell- they have an energy, selflessness, availability, generosity, zest for life and one amazingly contagious laughter that just warms us to the bottom of our souls. We are better people for knowing these two.
Describe a risk that you've taken in your business that paid off.
There are a bunch. It is hard to choose one. This year, I would say that we choose to navigate COVID head on even with all of it's challenges and the often contradictory direction that we were getting. It has been tough at times. It was scary at times. We saw a lot of different faces of the community that both inspired us and gave us pause. We were lucky to have had a great team and a community that supported us throughout. We have really learned to take it all one day at a time. There is no other choice on some level, even today. We are grateful.
What advice would you give to a new business owner who is working to build a business like yours?
Love what you do. Know where you are. Talk to your customers. Get a good lawyer.
There are so many great wilderness areas to explore around Seward and Kenai Fjords and amazing opportunities for adventure or relaxation. If you had a free weekend, where would you go?
Orca Island Cabins and Fox Island are favorite getaways but sometime just ducking into a pull off at Exit Glacier for the night is heaven.