Seward's July 4th Festival
Be sure to watch the livestream of the Mount Marathon Race if you aren't in town. 
https://axisports.ml/marathon.php?live=Seward%27s+Mount+Marathon+Race+2022
Our land parade begins at 1pm. Vote for your favorite float at seward.com/vote .
Seward's annual July 4th celebration features a packed holiday schedule of special events, presentations, contests, and community gatherings. The Seward Chamber of Commerce is planning for the holiday festivities and invites visitors to join us for a one-of-a-kind Seward 4th of July across the holiday weekend from July 1 to July 4. Stay tuned for a complete schedule with festival booths, a boat parade, 4th of July Fireworks, the Mount Marathon Race, and more! 
Spend a day strolling historic downtown streets where merchants and vendors sell Alaska-made wares, and your favorite food carts offer everything from corn fritters to gyros, deep-fried onions to traditional cotton candy.
While you're here, take a walk along Resurrection Bay, hike some of our less insane trails (leave Mt. Marathon to the runners!) and enjoy what Seward is all about — getting outside, exploring, and having fun with friends and family! In a small town like ours, you're certain to run into a familiar or friendly face.

The night before the race, pick a good spot to watch our Fourth of July Fireworks Display. The fireworks launch from the Harbor Uplands, near the Mariners Memorial. You can spot them from all over town, but some favorite viewing spots include the Seward Waterfront Park, Seward Boat Harbor, or on a boat in the bay. The show starts at midnight (12:01 a.m.), once it is actually dark enough to light up the sky!  
To learn more about the Mount Marathon Race visit mountmarathon.com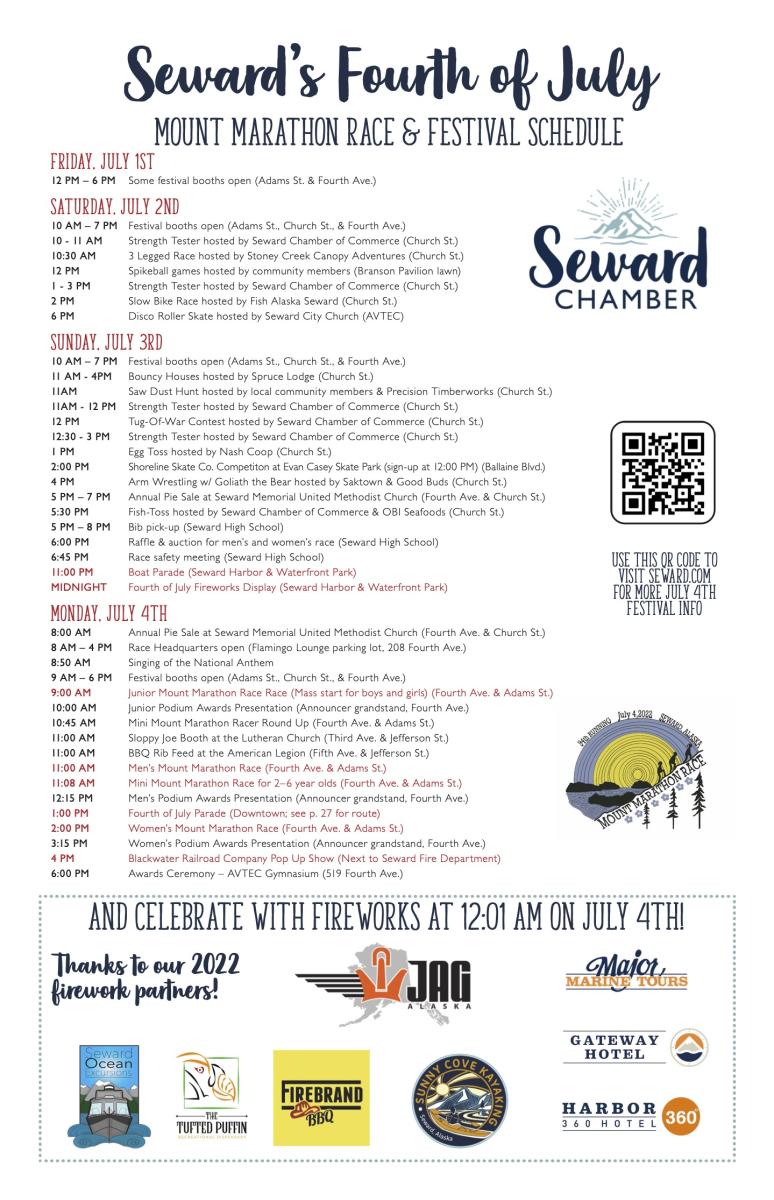 Interested in volunteering? Sign up here! 
 

 
Check out our list of 2022 Seward 4th of July Festival vendors below!
Join the community of Seward for the 94th annual running of the Mount Marathon Race on July 4th, 2022. The men's and women's course is a grueling...