Attention all adventure seekers and fun-loving individuals!
Come join us for an unforgettable experience in Seward, Alaska this March. The Seward Chamber's Winter Weekend is here and we have a lineup of exciting events waiting just for you.
Indulge in mouthwatering food, groovy music, and exciting auctions at the Seward Pioneers of Alaska scholarship fundraiser. Head to Flamingo Lounge to enjoy Irish-themed cocktails and entrees. Get your trivia skills ready for St. Patty's Day Trivia and take home amazing prizes and giveaways at Yukon Bar. Come and experience live music with the musical master, Milo Matthews also at the Yukon Bar! Take a stroll through the Spring Market at the Gateway Hotel where you can discover talented artists and crafters, relish delicious food and Stoney Creek BrewHouse beer and beverages. Sip on refreshing Lilikoi Mimosas and savory food specials at Zudy's Cafe. Get ready to score a great deal with .99 (99 cent) green clothing tags at Ukanuzit! For wildlife enthusiasts, take advantage of the amazing sales on wildlife boat cruises with Seward Ocean Excursions or Major Marine Tours. Lay your head at night in one of Seward's beautiful spring vacation home, with sales from Angels Rest on Resurrection Bay. Don't miss out on the opportunity to explore the stunning surroundings of Seward, Alaska. So pack your bags and come join us for a weekend full of excitement, adventure, and memories to cherish forever.
We can't wait to see you!

Don't miss out on this exciting event! The deadline for submissions is March 10th, so make sure to sign up now to be a part of this unforgettable adventure.

Thank you for your continued support, and we can't wait to see you at Seward Winter Weekends!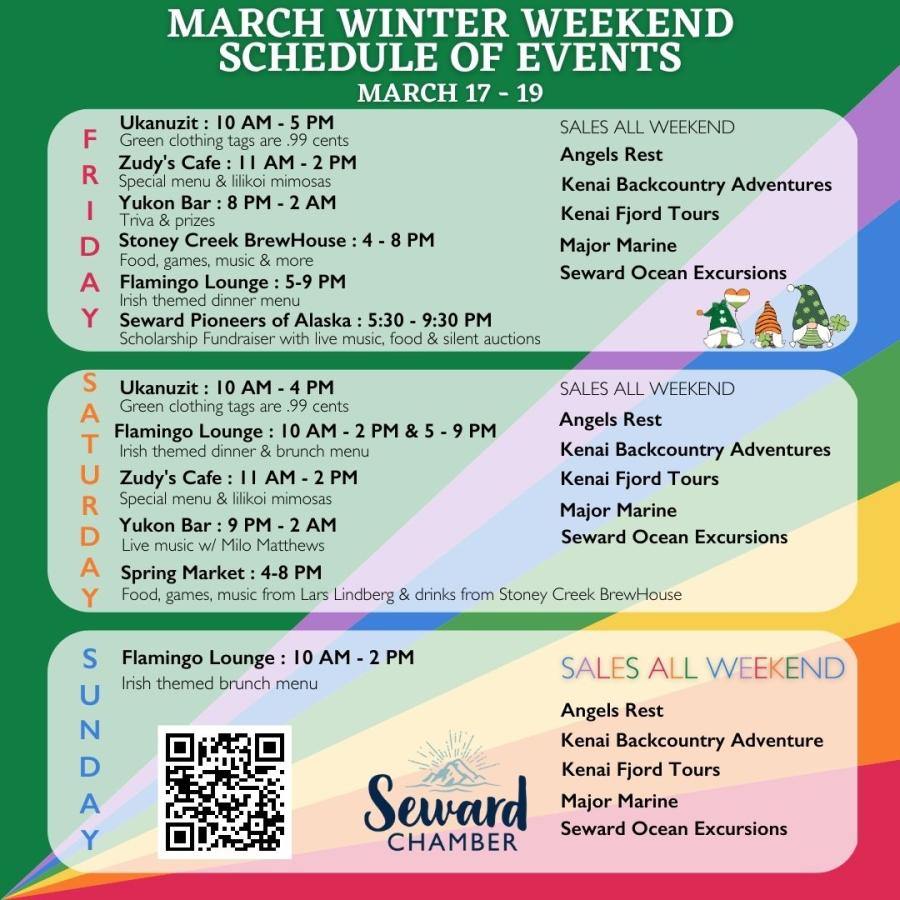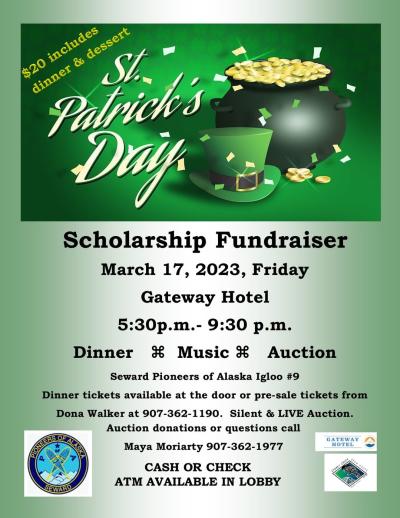 Guests booking directly will receive a beautiful Deneen pottery Angels Rest mug as a thank you gift, ($30 value) two night stay required
20% off Spring Wildlife Cruises and overnight at the Harbor 360 Hotel
St. Patty's Day Trivia on Friday March 17 8pm with prizes and giveaways
Live music with musical master Milo Matthew on Saturday March 18
10% off trips over weekend
 Menu Specials &  Lilikoi Mimosas!
Green clothing tags are .99 cents!
Irish Themed Specials (Entrees and Cocktails) on Friday, March 17th