On a sunny, Monday morning in May, Yana and Michael Taylor welcomed the Chamber team for a staff familiarization trip at their BnB, A Bell in the Woods. Yana's casual nature is coupled with authentic hospitality and crowned with culinary excellence. She immediately had us laughing and feeling at home as, with coffee in hand, she toured us through their knock-out space. 
Each room in A Bell in the Woods is uniquely decorated around a specific theme. The impressive artwork, rustic light fixtures and curved archways are evocative of an interior decorator's touch, however, the Taylor's personally designed this space around passed down art pieces to create its stylish ambiance. 
After a walk-through of the single rooms and private apartments, Yana invited us to take our seats at her table set with coffee, orange juice and water. She promptly brought out a delightful, purple smoothie; the first of our three course breakfast. Someone commented, "I feel like we're at a tea party!" Stirring the smoothie with the delicate spoon that accompanied it. 
Prior to purchasing their home in Stoney Creek, Yana and Michael owned a restaurant in the lower 48. Yana confessed that she was tired of being the boss and just wished to cook. Her culinary talents impressed everyone that morning over our second course; a pleasing breakfast pizza composed of pesto, garlic-spinach, baby tomatoes, feta and poached eggs. A Belle in the Woods can accommodate 20 guests, providing breakfast to any dietary restriction.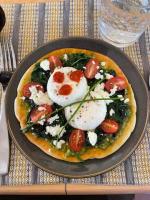 Finally, a delicate Raspberry Kuchen for dessert became everyone around the table's new-favorite. Generously, Yana brought out her hefty cook book and shared the recipe for us to attempt on our own. While enjoying the sweet treat, Yana and Michael entertained us with stories of their mid-pandemic move from Kentucky to Seward, when they had to spend the night in the customs office. Their adorable daughter peaked her head out from the kitchen, asking mom for "more raspberries, please." Jane, their "ghost" which opens the front door to a Bell in the Woods even stopped by to make an appearance. Yana promptly locked her out.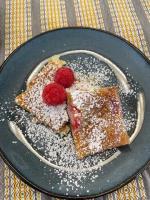 With full bellies, Michael and Yana waved us goodbye from their sun-soaked porch. The Taylor's exemplify humble-Seward-hospitality. The Taylor's operate two businesses; A Bell in the Woods BnB and Blue Ice Charters. Both businesses are proud members of the Seward Chamber of Commerce. We appreciate the generosity they shared with us on this spring, staff familiarization trip.