Q&A With Levi and Mallory of Alaska Dream Charters
It's often said that people make the place, and we couldn't agree more. Our new spotlight series introduces you to Seward Chamber of Commerce members who make our community an incredible place to live, work and play.
Alaska Dream Charters provides a personal and individualized fishing experience. Specializing in six-passenger charters, Levi Rangel and Mallory Rice offer a smaller boat and fewer patrons on each trip allow for one-on-one time with experienced captains and deckhands. Chasing everything from big Halibut, Salmon and Rock Fish, their captains and deckhands have a flair for teaching and are willing to provide as little or as much assistance as desired in each fishing adventure.
We recently sat down with Levi and Mallory to learn more about the journey they have taken as a small business owners in Seward.
How long have you lived in Seward? What first brought you here?
My husband, Levi Rangel and I have lived in Seward for 2 years with kiddo Camille. We are in our second year of business in Seward. Operating a business like this has been in our sights for years. With over 20 years of fishing and hunting experience, Levi has fished all over North America from Canada to the U.S and Mexico. He has done it all, but Alaska is where big fish live! That is why we have decided to pursue this business and this dream in Seward, Alaska.
What makes your business special or unique? In other words, what are you known for?
Alaska Dream Charters not only prides itself in specializing in six-pack charters but we also specialize in customized trips. We allow customers to buy out our boats for the day for a private trip or create special packages that can include everything from sightseeing, hunting drops and of course FISHING!
Tell us about a product or service that you're particularly proud of.
We pride ourselves on customer service. Guests have a personal interaction from the moment they call us all the way to being personally escorted to the boat. We take complimentary photos during and after the trips so that the customers can focus on catching fish and not the camera.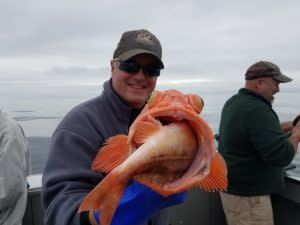 What advice would you give to a new business owner who is working to build a business like yours?
It's not a 9-5 job and requires dedication and sacrifice, but is worth it in the end.
What is the best compliment your business has ever received?
We have been told that it is nice to have a company that not only produces fish but also professionalism.
What do you like most about living and working in Seward?
Seward is a community of like-minded individuals who seem to share a love for this state that is unmatched. We very much enjoy Seward's quaintness, hard working values and people.
Tell us about a community member in Seward who you admire.
Jessie and Samantha Osborn are two individuals that we admire. They are a couple that is in business together and they continue to help us navigate the road as both business owners and a married couple.
How do you spend your free time?
We hunt and fish of course!
Where's your favorite spot in Seward to unwind?
We enjoy the Breeze Restaurant. It's easy going, good food, and enjoyable atmosphere.
There are so many great wilderness areas to explore around Seward and Kenai Fjords. If you had a free weekend, where would you go?
We would probably take the boat into Aialik to the glacier, camp overnight, fish and bear hunt along the way.
Is there anything exciting on the horizon that you'd like to share?
We have purchased Camelot Cottages in Seward; while it is a separate business we are creating both stay and play packages joined with Alaska Dream Charters to include lodging and fishing.
Feature Image: Everyone loves salmon! Photo Courtesy of Alaska Dream Charters.
***
For more information about Alaska Dream Charters click here or call 907.422.7070. For more information about Camelot Cottages, click here or call 907.362.7843.
Want more information about Seward or our Chamber of Commerce? Call 907.224.8051.