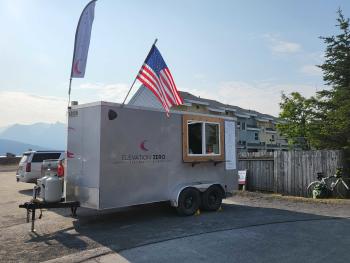 Every business working closely with tourism can rattle off a list of unbelievable inquiries they've heard from visitors. When Tanya and Brandon Koehler of Elevation Zero are asked "What's the elevation of Seward?" they simply point to their logo. You'll find Elevation Zero serving strong coffee, Lotus Beverages and fresh-fruit Acai Bowls at the south end of the harbor. 
The Koehler's relocated their four boys to Seward 14 months ago, quickly finding their niche in Seward's burgeoning food-truck scene. "We sold whatever wouldn't fit in the trailer to move here," mentions Brandon while discussing Elevation Zero's travel-trailer-turned-coffee-shop, noting "If you leave Montana, there's nothing better than Seward." 
This husband and wife team, feeling immediately welcomed by our coastal town, dream-schemed their way into working side-by-side to offer another healthy option for our local community. As lovers of strong coffee and healthy snack alternatives, this family run business is doing exactly what they set out to do. 
Inside Elevation Zero, the Koehler's are creating delicious and nutritious treats for our flourishing community of visitors and locals. Their menu of fresh-fruit Acai Bowls are a quick and healthy option inspired by and named for Seward's natural wonders. However, you may feel you've escaped to Hawaii while enjoying the In-Spire-d Cove Acai Bowl; a tropical acai of granola, banana, blueberry, almonds, almond butter and honey. Other favorites, like the Dolly Varden Lotus and Espresso made to order, are delightful pick-me-ups.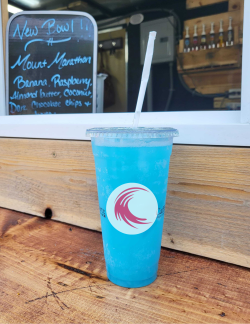 As reciprocity for our community's support of Elevation Zero's first season and in keeping with a focus on local hospitality, the Koehler's have initiated a punch card system: your 10th drink is on the house and completed punch cards are entered into a drawing at the end of the season for a give away raffle prize. Excitingly, Elevation Zero will deliver on orders over $25!
"Our community supported us all year, so we want to support them back and say thank you!" 
These coffee lovers uprooted from a town dotted with cafes on every corner. The Seward Chamber of Commerce is grateful Elevation Zero transformed a coffee-less harbor corner into a one-stop-shop for caffeine and wholesome treats.
As Tanya says, "Who doesn't want a coffee all day long?"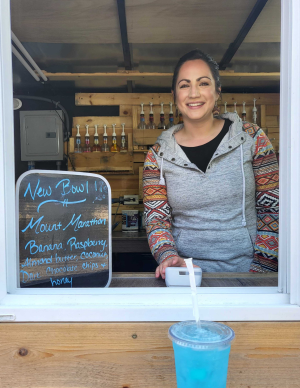 We wish you best of luck in your first season! Here's to doing more, together!