Q&A With John Page of Sunny Cove Sea Kayaking
It's often said that people make the place, and we couldn't agree more. Our new spotlight series introduces you to Seward Chamber of Commerce members who make our community an incredible place to live, work and play.
Since 1996, Sunny Cove Sea Kayaking has offered both novice and experienced paddlers guided kayaking tours in Resurrection Bay, around remote Fox Island (in conjunction with Kenai Fjords Boat Tours) and in Kenai Fjords National Park. Kayak tours often encompass calving glaciers, hiking through a temperate rainforest, exploring an underground WWII fort or a boat/kayak combo tour.
We recently sat down with John Page to learn more about the journey he has taken as a small business owner in Seward.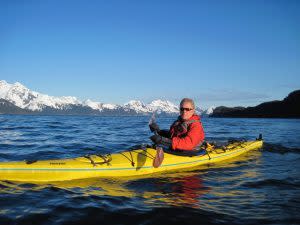 What makes your business special or unique? In other words, what are you known for?
Since Sunny Cove's origin, we strive to share our love for Resurrection Bay and Kenai Fjords National Park by providing our clients with exceptional tours. Kayaking is the vehicle we use to help people explore and appreciate the amazing natural world that surrounds us. From a startup of two people, we have grown into a company of 16. Our managers, Kat Page and Stephanie Millane, have been with the company since 2006. Lead guides Matt Barnes and Danny Meuninck have more than seven years with Sunny Cove. Many of our guides return for multiple seasons. Our professional staff are committed to excellence and passionate about what they do.
We believe Resurrection Bay, Fox Island and Kenai Fjords National Park should be preserved for future generations. To help make that happen, Sunny Cove operates in an environmentally sustainable fashion and advocates for others to do the same. We have limited our footprint to locations best able to absorb our passing while still providing our guests with an authentic wilderness experience.
We practice Leave No Trace ethics and our guides share these practices with our guests and community. Our commitment to sustainable tourism has been recognized by Adventure Green Alaska as a Gold Level Certified Business.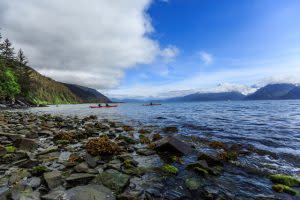 What would people be surprised to learn about your business or your journey as a business owner?
In 1996 I started Sunny Cove. It grew out of the desire to experience living on Fox Island and the need to be making a little money while there. I had guided kayaking for other companies in Prince Williams Sound and Kenai Fjords. I found I enjoyed sharing the place I loved with others. When Tom Tougas, then owner of Kenai Fjords Tours, built the Day Lodge on Fox Island I approached him about offering kayaking tours. He said yes and Sunny Cove was born. I would check my 3 pound/first generation cell phone to see if there were kayak guests at the Kenai Fjords Wilderness Lodge. Kayaking to work made for an interesting morning as I was often escorted by some of the locals (sea lions, otters and orcas). Two years later I started offering tours from Lowell Point and in Kenai Fjords National Park.
What is the best compliment your business has ever received?
"Your guides are the best!" We love it when we hear kayaking with Sunny Cove was the highlight of a person's vacation. It means our guides again succeeded in providing a fun, informative and unique experience to our guests. Engaging each paddler and making their tour a once in a lifetime memory is our goal. Our guides love what they do and it shows.
How long have you lived in Seward? What first brought you here?
I came North in 1983. An opportunity to test skis for Powder Magazine in the Ruth Glacier was the draw. I canceled my return flight three times as I was amazed by the wildness and beauty of Alaska. I moved up the following year and Alaska has been home since.
Alaska's been a great playground for me to pursue my passions and challenge my abilities. While working on a book about Wrangell - St Elias National Park, I learned photography. I gained organizational and people skills while serving as executive director of several nonprofit companies. Covering the first four years of the World Extreme Skiing Competition in Valdez tested my skiing abilities. Alaska provided great opportunities to try new things, learn a bunch, fail a bit, and grow.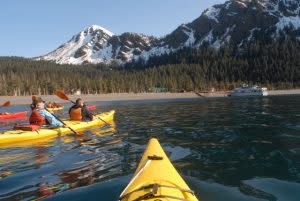 What do you like most about living and working in Seward?
Seward's proximity to mountains, ocean and recreational opportunities makes it easy to love. It's always a thrill to share this area with our family, friends, and guests. The community here is incredible and we all pull together to make this unique town not only a "must see" destination for travelers but also a place to call home.
Where's your favorite spot in Seward to unwind?
I'm on Lowell Point Beach nearly every day. Walking along the shoreline, listening to the waves, watching the soaring eagles, and enjoying the marine wildlife is the perfect way to gather my thoughts and relax.
There are so many great wilderness areas to explore around Seward and Kenai Fjords. If you had a free weekend, where would you go?
So many choices—so little time! Kayaking along Resurrection Bay, exploring the trails of Tonsina Point, camping at Caines Head and hiking to Ft. McGilvray or the Alpine Loop is a great weekend getaway. Encounters with the local otters, sea lions and eagles are just a bonus, not to mention the whales cruising the bay looking for dinner. Spending time exploring my own backyard never gets old.
Feature Image: Visitors are treated to breathtaking views from the water on a tour of Resurrection Bay. Photo Courtesy of Sunny Cove. 
***
For more information about Sunny Cove Kayaking, click here or call 907.224.4426. 
Want more information about Seward or our Chamber of Commerce? Call 907.224.8051.