P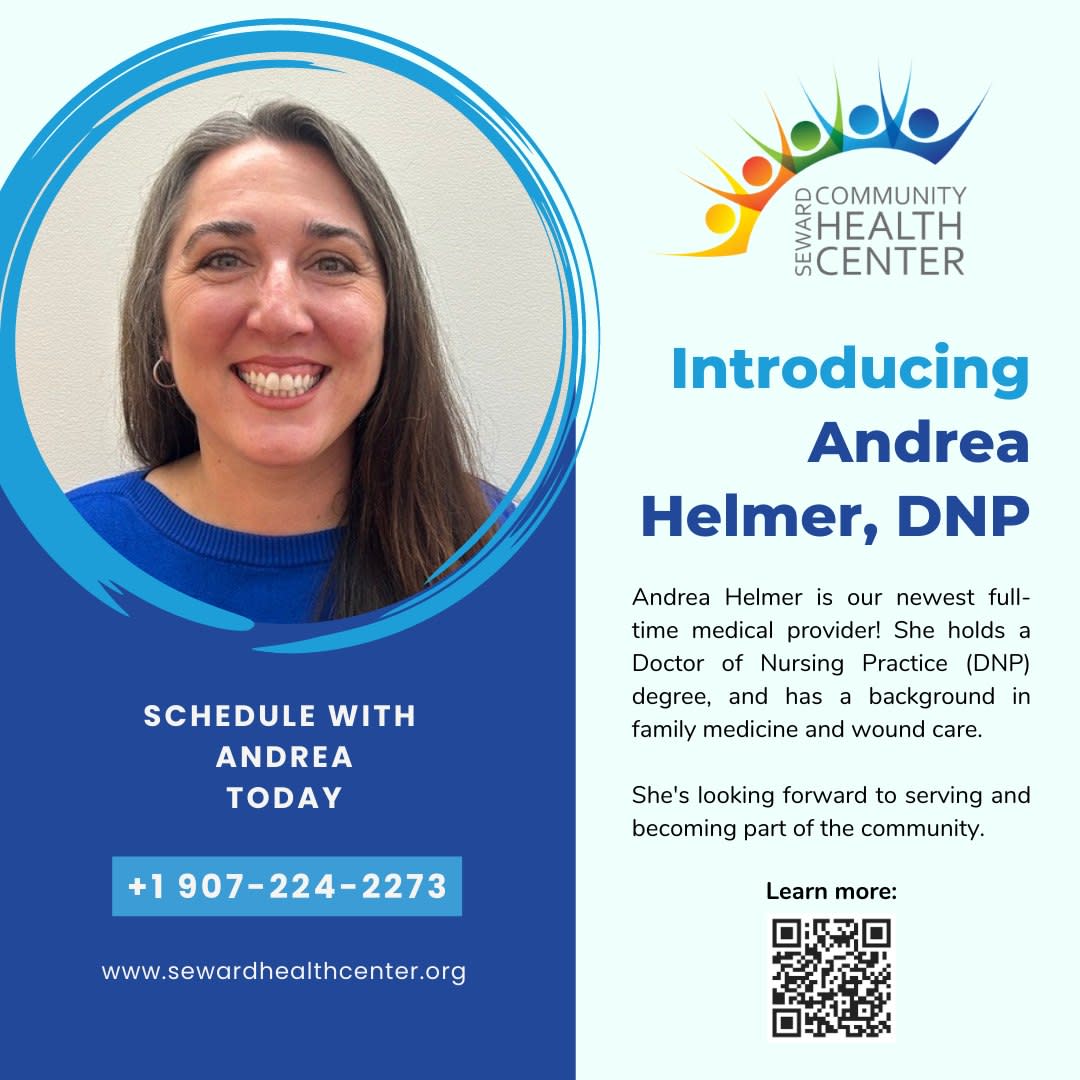 Photo courtesy of Seward Community Health Center 
The Seward Community Health Center offers a warm welcome to Andrea Helmer, DNP, NP-C.
The Seward Community Health Center expands their expertise with the warm welcome of Andrea Helmer, Nurse Practitioner (NP). She received her Master of Science in Nursing and Doctor of Nursing Practice (DNP) from Frontier Nursing University. Helmer has practiced healthcare for the past 20 years in a variety of settings such as a respiratory therapist, in the ICU, and in a small town in Texas serving our veterans. 
Helmer was born and raised in Grand Rapids, Michigan. She and her husband both began their nursing careers at the same facility in Michigan. As a married couple, they navigated the ICU together.
"I knew in my heart: nursing is my goal." 
Helmer and her family then moved to Montana because she was yearning for a sense of community. Here, she covered four clinics near West Yellowstone- a seasonally impacted community that reminds her of Seward. Throughout this time, she continued to pursue her educational goals. Helmer received both a master's and a Doctor of Nursing Practice (DNP) degree at Frontier Nursing University. 
Helmer has a huge passion for providing healthcare to communities, especially offering wound care. This led her to work in a small town in Texas, where a lot of veterans are in need of accessible healthcare. 
"A huge passion of mine is being able to provide resources to a community." 
Yet, Helmer was still longing for a sense of community for herself. 
"I wanted to get settled in a place where you know your neighbor and have that community- [where you can] participate with the people around you."
After another move to Oregon serving at a Veterans Administration and getting a taste of the Pacific Northwest, her family arrived in Seward and knew this is where she wanted to settle down.  "I thought Montana was home, but [after] I moved to the coast, I know I won't move from Alaska." Helmer is looking forward to living in Seward and participating in local activities together with the community. She is excited to ski, hike, fish, berry-pick and do all the Alaskan activities. 
Andrea's Top Health Tip for Sewardites: 
Advocate for individuals to take the time to find a primary care provider that they connect with. You can be picky with who you choose as your primary care provider. Helmer believes it's so important to feel comfortable and have a close relationship with you and your provider. She says to take the time to invest in finding your right fit, so you will want to continue checking in on your health. 
"I love what I do. I'm hoping to be able to do it with my diverse background and to offer up some resources to the community overall." 

Although Helmer just arrived in Seward about a week ago and boxes still line her new house, she is excited to get out and explore all the things Seward has to offer. 
If you see her in town be sure to say hello!