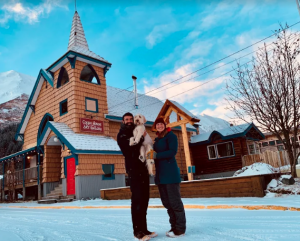 Those looking for a place to cozy up in Seward during any season, look no further than Resurrect Art Coffee House and Art Gallery.
'Rez Art' is housed in a 100 year-old former church, a perfectly novel setting to enjoy a latté, meet a friend, support local artists and try a bakery treat (or two).
Owners Micheley Kowalski and Mike Stewart are Resurrect Art's third owners since it was converted from a church and live next door to the bustling Seward staple.
"We love the community here - we feel grateful to know so many incredible humans in Seward, and it's such a pleasure to see familiar faces daily," said Micheley. "... And we know certain people are next door because we can hear their laughter! It's a profound and beautiful thing - to feel the network of community around you, supporting you as individuals and as a business."
Resurrect Art has been growing under the caring ownership of Mike and Micheley. The pair installed a beautifully comfy soapstone stove to warm customers all winter long, adding to the welcoming ambiance. They also recently transformed the basement into a bakery which wafts delicious scents throughout the coffee house all morning long.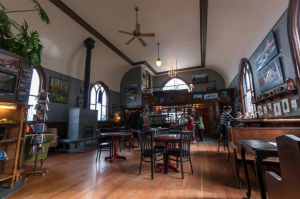 "Our goal is to provide a safe, beautiful gathering place for community that offers quality coffee, friendly service, and a unique space to showcase the work of our incredible local artists," said Micheley. "We appreciate the influx of visitors to Seward - it's always amazing to see how travelers are affected by the beauty of our community - but some of our favorite times of year are when we see our locals regularly, and when the community comes together through music performances, writer's group readings, or day-to-day meet-ups."
Learn more about Resurrect Art Coffee House and Art Gallery and Micheley and Mike in a Q&A:
How long have you lived in Seward? What first brought you here?
Micheley was born in Seward, as was her mom, Karen Kowalski. Micheley was raised in the Matanuska Valley, but returned to Seward seasonally in 1999 and has been here full-time since 2005. Michael moved to Seward in 2017.
What makes your business special or unique? In other words, what are you known for?
The coffee house is a special business first and foremost because of the beauty of the building - the church architecture and the large, gothic windows create a space that is inviting and inspiring. But in addition to the uniqueness of our space, I think we are known for the kindness of our employees, the quality of our coffee, and the talent of the artists whose work adorns the walls of the coffee house. I think visitors and locals alike enjoy visiting Resurrect Art because of how they feel when they're here: inspired, connected and welcome.
Tell us about a product or service that you're particularly proud of.
We love our coffee! We have two unique blends that are only available at Resurrect Art, and they were developed 25 years ago by Mike Olson, who was the original founder of Resurrect Art, along with this wife, Deb. Mike worked with a roaster in the valley, now Alaska Artisan Coffee, to develop the Resurrect Art blend and the Seward blend, and we still use these two signature blends today. We've considered changing it up over the years, but when it comes right down to it, we love our coffee and there's no reason to change something that works so well.
We would also mention that we're very proud of our staff and the crew that keeps the coffee house running daily. Resurrect Art wouldn't be the welcoming space it is without the heart and hard work of our staff who are consistently kind, helpful and committed to making a positive experience for customers.
What is the best compliment your business has ever received?
A few people have mentioned that visiting Resurrect Art was a highlight of their trip to Alaska. That feels pretty great!
Tell us about a community member in Seward who you admire.
There are many, many people who we admire in Seward, a long list includes Kevin and Stacy Lane, Hilary Bean and Erik Slater, KellyAnn Cavaretta and Matt Cope, Ann and Tony Sieminski, Judy and Jan Ohdner, Tom Tougas, Lori Landstrom, Stacy and Andy Schaffer.... the list goes on and on. We love how each of these people work to make Seward a better place to live and thrive. One community member who we both see as a model for how to live in a positive and kind way is John Uriarte.
How do you spend your free time?
Travel, experiencing the outdoors, music, reading, meditating, cooking, gathering with friends
Where's your favorite spot in Seward to unwind?
Afognak Beach, The Cookery
What advice would you give to a new business owner who is working to build a business like yours?
Pick excellent staff and treat them with kindness and care.