Get ready for a week of all things Startup & Business!
Every event is free but with limited space. RSVP with the link below each event!
Join us at Alaska Startup Week 2023, a state-wide collaboration with events happening here locally in Seward! Featuring events taking place at our local businesses as well as virtually.
Alaska Startup Week brings entrepreneurs, local leaders, and friends together during one week to build momentum around Alaska's entrepreneurial opportunities.
Check out the full Alaska Startup Week growing schedule throughout the state here: https://akstartupweek.com/
OCT 2. Kickoff Event
Flamingo Lounge 
6 - 8 PM 
Whether you are dreaming, scheming, starting, or own a small business, come network with the small business community of Seward at the Flamingo Lounge. Learn about the week's workshops and events, both statewide and locally in our community.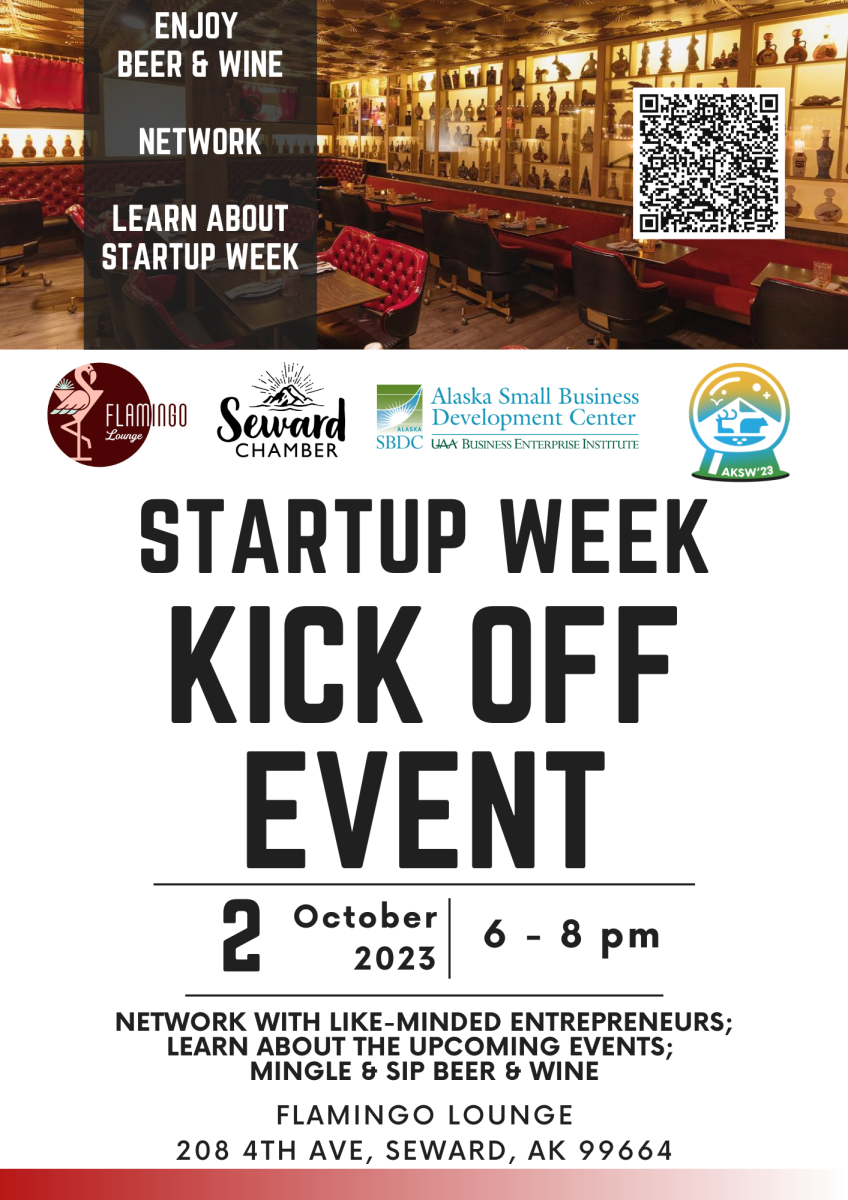 OCT 3. Creating Financial Projections for your Startup
Seward Community Library & VIRTUAL (Zoom Link Will Be Posted Before Event) 
12 - 1:30 PM 
If you want to start or run a successful business you have to understand the numbers. Regardless of the industry, size or other unique features of your business, financial analysis is critical to both starting a business and staying in business.

If you are working on the feasibility of an idea or writing a business plan, you need this class! This workshop will cover how to develop a financial plan using the AK SBDC's Financial Model tool which is an extensive Excel model. Don't worry, no previous experience with Excel is necessary. The results of this exercise will be ready to insert into the financial portion of your business plan.

Topics covered include the following:
Start-Up Budget, Salaries and Wages, Fixed Expenses, Sales Projections, Income Statements, Cash Flow Statements & Balance Sheets.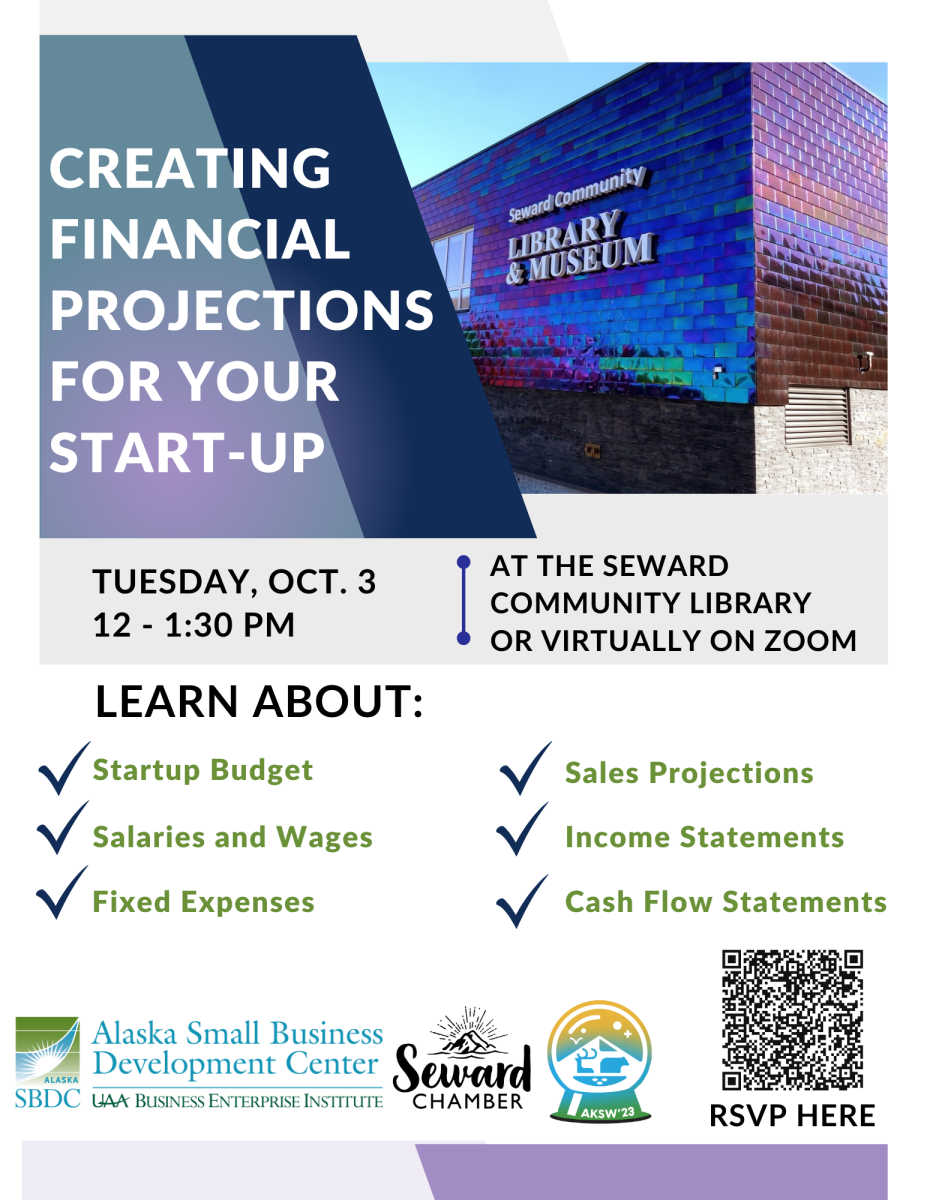 OCT 4. Meet Your Lenders: Funding your Startup on the Kenai Peninsula
1 - 3 PM 
Virtual on Zoom
Are you considering a loan to finance a small business project but unsure on how to proceed? Join us for a virtual Meet Your Lenders event to learn about loan programs available on the Kenai Peninsula. Get a feel for what lenders are looking for in a positive, friendly, neutral environment.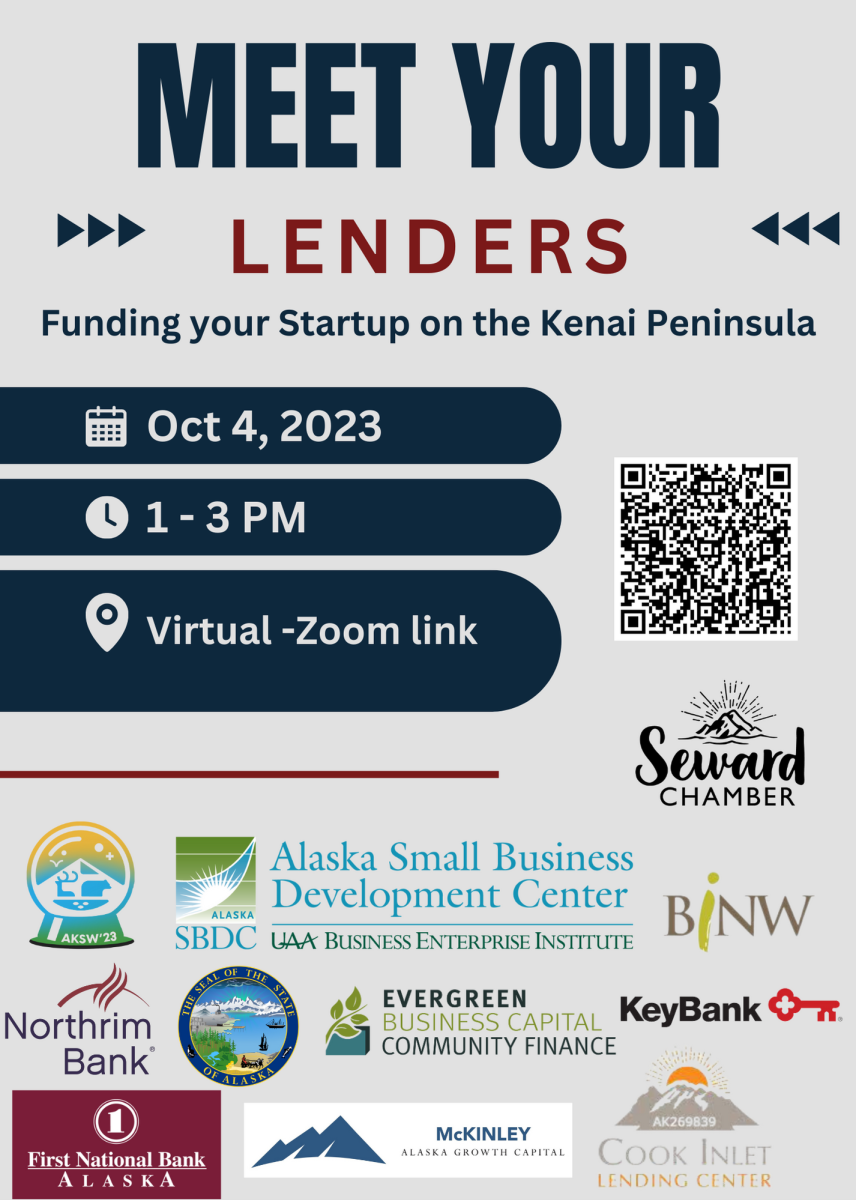 OCT 4. Pitch Fest
6 - 7 PM
Resurrect Art Coffee House
A fun event for entrepreneurs to present their ideas to the local community and learn how those around them can support their business in its growth. Modeled after the national 1 Million Cups (1MC) campaign, this gives start-ups the opportunity to practice their elevator pitch to a supportive audience, access resources, and engage with a network of small business owners.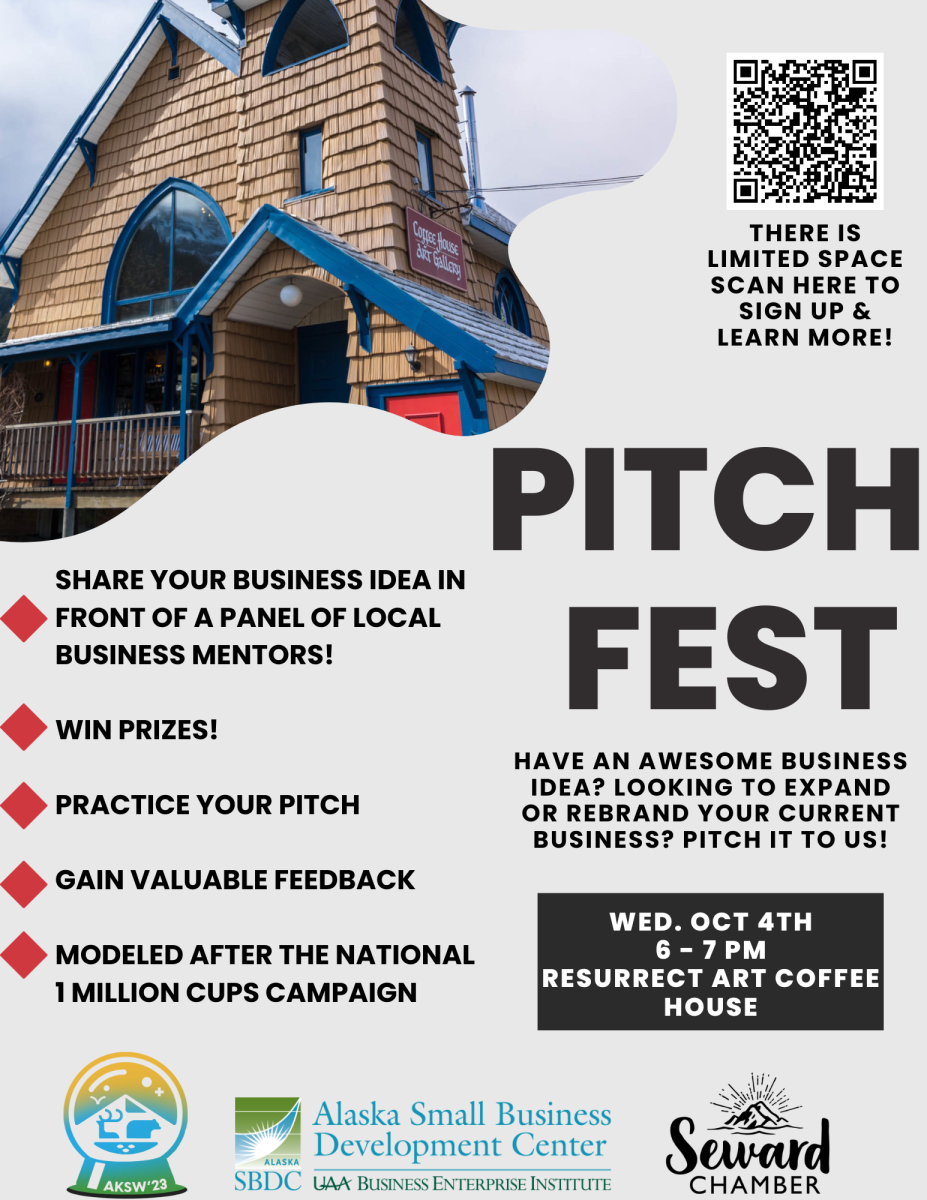 OCT 5. Chamber Luncheon with Alaska Small Business Development Center: Impacts in our Community
12 - 1 PM
Breeze Inn
Join us at 12 noon at The Breeze Inn for an informative presentation from SBDC Representative KellyAnn Cavaretta. No RSVP is needed. $15/buffet style lunch and chances to win the Split the Pot Raffle!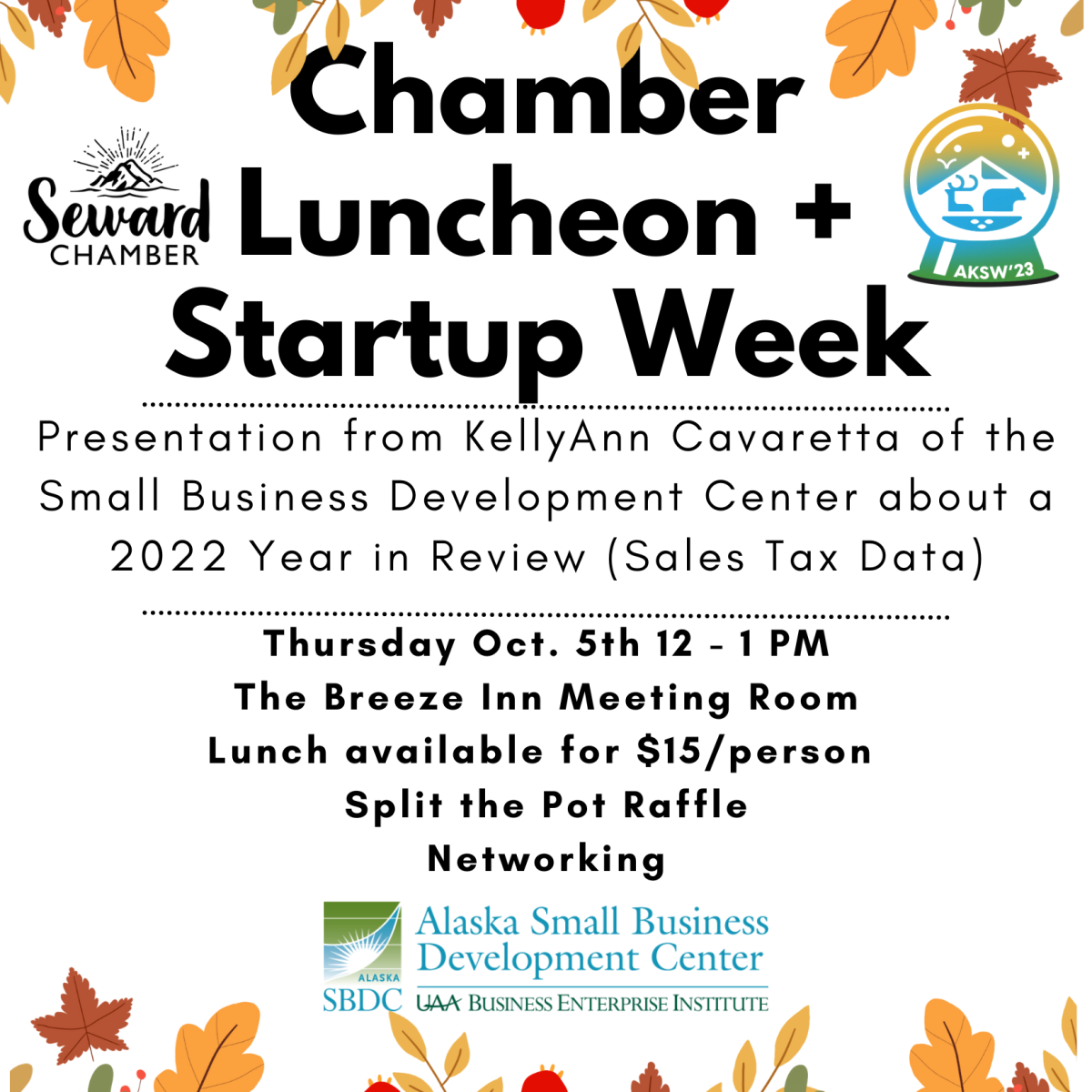 OCT 5. Buying or Selling a Small Business: Planning for a Successful Sale
6 - 7 PM
Gateway Hotel
Are you considering buying or selling a small business? Join us for an informative session where we will delve into the intricacies of planning for a successful sale. Whether you're an aspiring entrepreneur looking to invest in a business or an existing business owner thinking about an exit strategy, this event will provide valuable insights into the sale process, financing options, business valuation methods, and more. Learn about crucial steps involved in the process, from valuation to negotiations, and gain insights into legal and financial aspects. Network with like-minded individuals who share your passion for business.