Q&A With Mallory and Levi of Camelot Cottages
It's often said that people make the place, and we couldn't agree more. Our new spotlight series introduces you to Seward Chamber of Commerce members who make our community an incredible place to live, work and play.
Camelot Cottages are a family-run, independent cabin getaway a few minutes drive from the heart of Seward. Serving both local Alaskans and tourists, they provide a tranquil setting that gives people a taste of real Alaska.
We recently sat down with Mallory and Levi to learn more about the journey they have taken as a small business owners in Seward.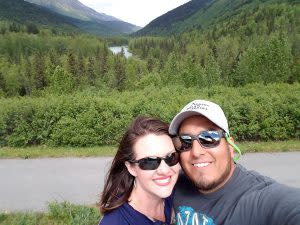 How long have you lived in Seward? What first brought you here?
We have lived in Seward for two years. We became a part of this community in hopes to share our love for Alaska and Seward specifically with those that may only get one chance to experience it.
What do you like most about living and working in Seward?
The people are our favorite. We have never been to a place where we have so welcomed and accepted into not just a community, but a family.
What makes your business special or unique? In other words, what are you known for?
We are unique because we not only provide lodging in cabins with full bathrooms, but we also work in conjunction with local fishing charter
Alaska Dream Charters
offering package deals and overnight trips.
What would people be surprised to learn about your business or your journey as a business owner?
This business has been staple of the Seward community for over 20 years and we are doing everything in our power to return it to its original glory.
Tell us about a product or service that you're particularly proud of.
We are particularly proud of our all-inclusive feel. Not only does each
cabin have a kitchenette
and all the amenities of home, we have multiple fire pits throughout the property, gathering places, and an upcoming game yard that contains horse shoe pits, Giant Jenga and more! Customers never have to leave if they choose.
What is the best compliment your business has ever received?
We have been told it is "refreshing" and "a breath of fresh air in the middle of the woods."
How do you spend your free time?
We spend our free time FISHING, hiking, hunting and anything outdoors with our kiddo.
Where's your favorite spot in Seward to unwind?
Anywhere that has good food, good beer and good company. Usually around a fire pit.
Describe a risk that you've taken in your business that paid off.
We decided to hire local high school students to assist in renovating the cabins and to keep up the property. We couldn't be prouder of the work they continue to do and pride they show in the business.
What advice would you give to a new business owner who is working to build a business like yours?
NETWORK! And mean it when you get to know someone. It's always nice to know someone you can call if you get in a bind.
If your life was a book, what would the title be?
There are so many great wilderness areas to explore around Seward and Kenai Fjords. If you had a free weekend, where would you go?
We may hike the Caines Head trail; plan a trip that coincides with the tides along the beach trail to the old military ruins. We would camp there for the weekend either at our own site or rent a public use cabin and hike back the next day on the tide's schedule.
Feature Image: Rustic cabins dot the Camelot property. Guests enjoy the feeling of a true Alaskan escape. Photo Courtesy of Camelot Cottages.