For those in love with nature and each other, for those craving intimate "I-Do's," for those adventure-seeking lovers,


 consider breaking the traditional wedding norm with
The Seward Chamber of Commerce's newest
Elopement-Photographer.
"I cannot get enough of the genuine, wildly in love, down-to-earth folks who like to play outside."
Emily has specialized in elopement photography for 11 years, but got her first taste of Alaska in 2018 participating at a Girdwood-based photography workshop. Despite the falling rain, Alaska's vastness and beauty snagged her, making Emily feel as if she was in another country. Through the low lying fog, it became clear to Emily that she wanted to be a part of documenting our Alaskan magic.

"Seward is probably my favorite place in Alaska, so far."
One of Seward's draws as an elopement destination is the integration of outdoor, daily adventures that can transform a typical wedding ceremony into something truly unforgettable.
Emily finds Seward is the perfect size for an elopement destination, with good food, incredible mountains, and lush vistas culminating for a haven to tie the knot.  
Emily Hary jokes that she "under promises, but over-delivers."
Take for example this looping-gif she might drop in your wedding-day gallery.
Emily has shot elopements at Salted Roots on Lowell Point, and organized flights with Seward Helicopter Tours for photos at Bear Glacier Lagoon, quickly acclimating her with our community of small business owners.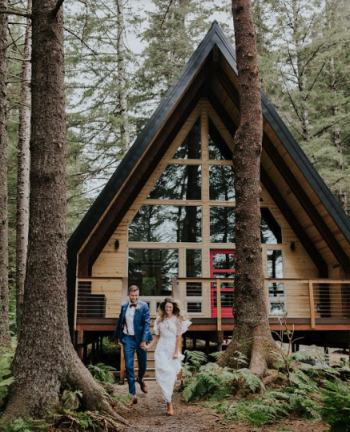 Emily specializes in outdoor elopements, so her ideal clients are couples who want to play outside.
It's no secret that Seward is bursting with people who'd prefer to be out in the elements, even in winter.
Emily loves to craft experiences for people and is heavily involved in the planning, logistics and licensing of your elopement.
Whatever adventure you're dreaming of for your wedding day, Emily will be there from the planning and booking stages, to capturing your mountainous moments behind the lens.
Emily's schedule will have her working elopements in Alaska this summer! In June, Emily will be shooting an intimate ceremony at Salted Roots on Lowell Point, and in July she will be in Girdwood.
If you wish to coordinate something with Emily while she's here, the best way to reach her is here! 
Here's to doing more, together!