Fiddlehead Yurts is the quintessential Alaskan hideaway everyone imagines when planning their visit to Seward. Situated at the end of a long and winding driveway, Savannah Fackler transformed the yurt where she once lived, into an unforgettable AirBnB stay. Savannah, a born and raised Sewardite, never imagined herself a business woman. However, her transition from Pipe Welding has been seamless, while she owns, operates and expands Fiddlehead Yurts.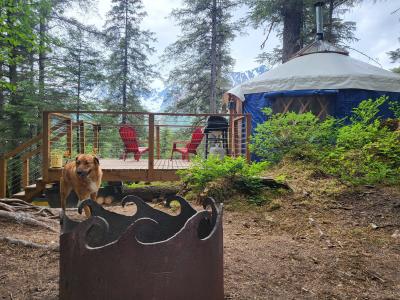 Fiddlehead Yurts worked out as a happy accident after Savannah, her boyfriend, and their two dogs outgrew the space. Now, guests from all over the world can admire our breathtaking mountain views from Race Point up to Big Marathon, into the bowl, Japanese Glacier, Mount Benson, and up Exit Glacier Valley, all while basking on the porch in the long-lasting Exit Sun. The property is shared with many beloved Alaskan creatures, so Savannah reminds guests to be mindful of bears and moose, to watch for perching owls, river otters and ducks in the near-by pond. She encourages berry picking from her bountiful blueberry bushes, while discouraging her own dogs from snacking on them as she prepares the yurt for the next guests.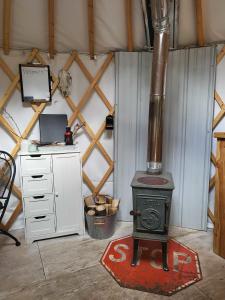 When rugged Alaskans hear "yurt," they will likely assume it's a "glamping" experience. However, for those more accustomed to hotel stays than bivvy-sack sleeps, Savannah makes it clear in her descriptions that Fiddlehead Yurts is not "glamping."
"I am straightforward to avoid setting false expectations," she admits.
Despite the "dry-ish" nature of the cabin, Fiddlehead Yurts is equipped with a generator, potable water, propane cook stove, heater and grill, a mini oven and a cooler. To ensure guest comfort, Savannah offers special touches like coffee, snacks, sparkling water and most importantly, bear spray. The hospitality and comfortability of Fiddlehead Yurts is reflected in its 5-star rating. 
When chatting about her design strategies, Savannah comments,
"Fiddlehead Yurts is the cool, funky thing I look for when planning a vacation."
Savannah's yurt is dotted with repurposed quirks that amplify Fiddlehead Yurts unique flare. The mining-camp wood stove rests waiting to be lit, sitting upon a salvaged stop-sign, with an old Ford tailgate for sheathing. For a spice rack, Savannah converted a tin first aid kit.The string lights and bouquet of flowers illuminate perky the ambiance of Fiddlehead Yurts.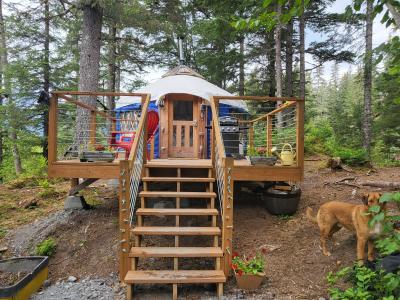 We'd like to thank Savannah for her valued Chamber Membership and wish her luck in the budding success of Fiddlehead Yurts.
Here's to doing more, together!