Member Spotlight: Moose Pass Adventures 
Passion, knowledge, hospitality – all out fun! These are just some of the few aspects Moose Pass Adventures provides throughout their guided tours.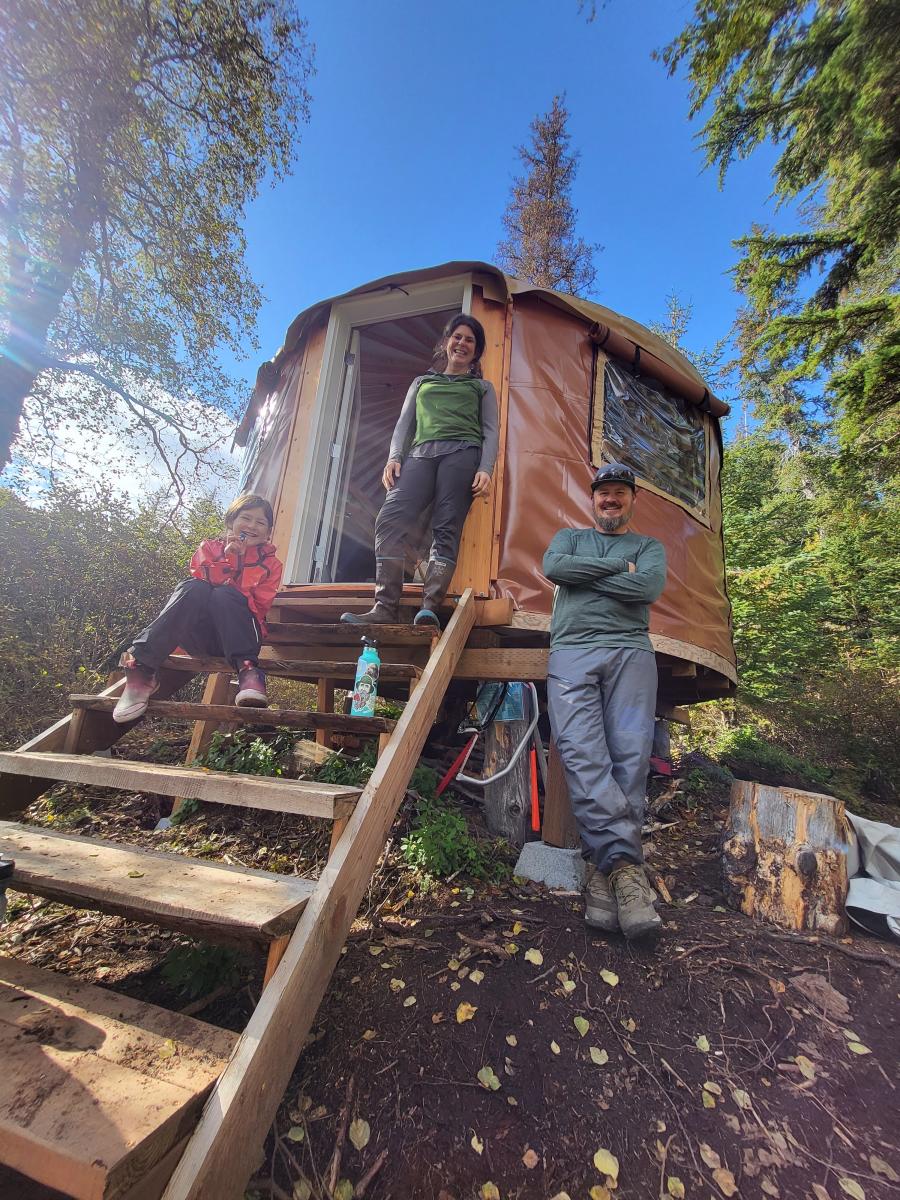 The Boyle family poses in front of their public use yurt at Grant Lake in Moose Pass. 
Moose Pass Adventures is a family-owned and operated business in the heart of Moose Pass that offers a variety of tours in both the winter and summer seasons. Although Moose Pass Adventures was founded just a few years ago, the owners, JD and Jen Boyle, bring along decades of experience. JD guided whitewater rivers for years, often leading multiple day trips. JD and Jen both have plenty of year's experience in the tourism industry, where the duo first met. This knowledge in both guiding and tourism and passion of the outdoors easily shines through on their guided tours. 
"We want to make sure that our adventures aren't just fun but also educational and enlightening. Our hope is that after kayaking or hiking with us, you'll leave with a deeper appreciation and understanding of our mountains, our community and the cultural landscape that surrounds us."
Passion & Knowledge
"At Moose Pass Adventures, we're all about getting people outside, exploring the great outdoors, and learning more about the environment around us. We believe that connecting with nature can be super inspiring and help people become better stewards of the land."
–JD & Jen Boyle
In September, our Chamber crew took a guided kayak tour and hike through Trail Lake, making stops along the way to learn about the unique history of Moose Pass and its wildlife. We strolled along the Grant Lake Portage Trail and stopped for lunch at their public use yurt. 
The Boyle's dedicated their own time and energy into building a comfortable public use yurt that overlooks Grant Lake. And the space is ever-evolving, with plans to create another yurt and amenities throughout the space in the near future.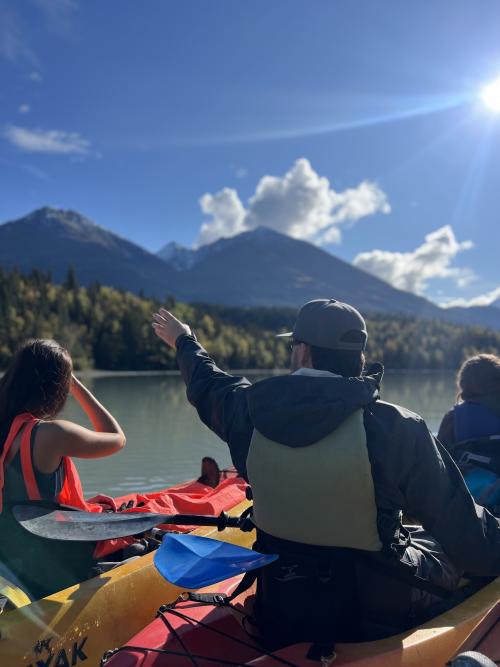 Hospitality
Before the tour began, we were greeted by the Boyle Family with their personable daughter in tow, and were offered hot cups of coffee and any accommodations that we may have needed. A sense of hospitality and connection was instantly felt and the Boyle family went the extra mile to ensure every guest was comfortable. For kayaking trips, they can provide rain gear, gloves, extra layers and anything else that can help make your tour more comfortable. 
Safety First
Safety is a number one priority at Moose Pass Adventures. Before we got into a kayak, we went over every aspect of safety and how to properly use the equipment. The safety lesson was both engaging and informative. Every tour begins with a safety debrief and how to use the equipment.  
All Out Fun!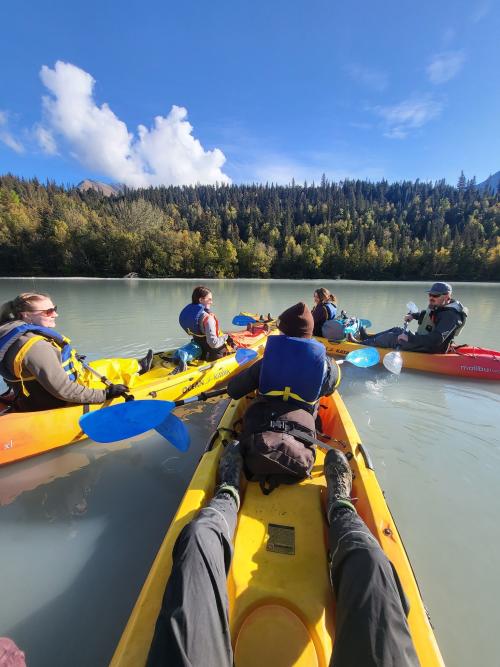 Moose Pass Adventures offers a variety of tours throughout the summer and winter months of Alaska. The tours are different in length so you can tailor your trip to how you want it. If there is something you want to see, your guides will make it happen. Kayak to a waterfall on Grant Lake! In the summer they offer:
Trail Lake Guided Kayak Tour (2.5 - 3 hour)

Grant Lake Guided Hike and Kayak Tour (Full Day)

Hike In Packraft Out Adventure (Full Day)

Overnight Yurt Adventure Dinner, Frontier Dinner & Kayak Tour (2 Day)

Glamping in Wild Alaska- Glacial Lake Kayak Tour and Yurt Stay (3 Day) 
They also offer equipment rentals for your own guided adventure. You can even rent a fishing kayak! 
The guided hikes are full of educational opportunities to learn about native plants, wildlife, local history and more.
While stopping for lunch at the yurt or staying there overnight, look for a hidden geocache that their daughter created herself!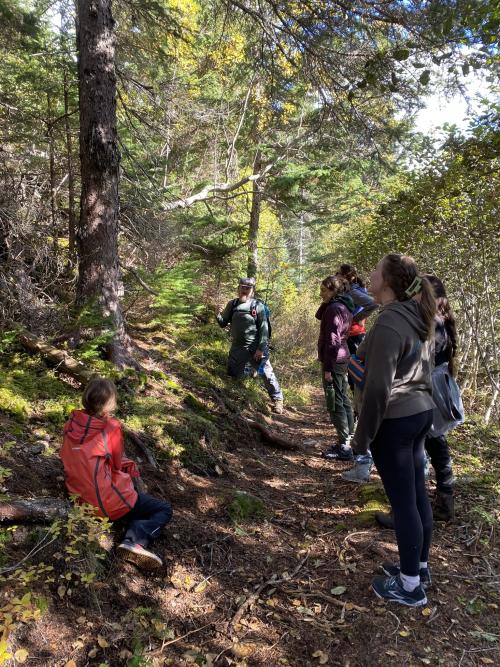 JD educates the chamber crew on local tree species on our guided hike through the Grant Lake Portage Trail. 
Winter Adventures are waiting for you! Immerse yourself in the true Alaskan experience.
Something Moose Pass Adventures can provide that is unique to many other guiding companies is year-long adventure. Here is what they can offer in the winter: 
Guided Snowshoe Tour in Moose Pass

A Special Winter Overnight to Remember

Winter Wilderness Adventure - 3 Day Winter Snowshoe Tour & Cozy Yurt Getaway
Check out their winter adventures here: moosepassadventures.com/?page_id=2466
Winter adventures are the perfect opportunity to get a real understanding of what it's like live like an Alaskan. Stay in their cozy yurt and have a chance to view the dancing aurora borealis. 
Check out Moose Pass Adventures and what they can offer for your own adventure here: moosepassadventures.com
Moose Pass Adventures
60.1042° N, 149.4422° W