FLAMINGO LOUNGE TO OPEN DOORS THIS SUMMER
     KellyAnn Cavaretta and Matt Cope wear many hats. KellyAnn is the Seward Small Business Advisor for Alaska SBDC, and together, the couple are new parents to their son Atticus, owners of Salted Roots Cabins on Lowell Point, serve on several community boards and are the new owners of The Flamingo Lounge, located in the former Thorn's building. Devoted lovers of White Russians and Buckets-of-Butt, Matt and KellyAnn renovated "Seward's Living Room" into a traditionally simple steak-house, while reinvigorating Gene's nuanced classics they originally fell in love with.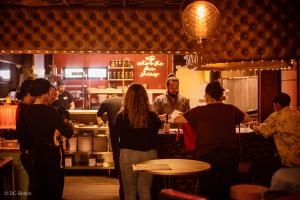 The Flamingo Lounge is a blending of two histories. While aiming to honor the Thorn's legacy, KellyAnn and Matt are also resurrecting "The Flamingo," a historic and scandalous Seward club, described at its 1953 opening as "beautifully appointed" and "ultra modern." These descriptors ring true of Matt and KellyAnn's rendition of The Flamingo, with its 1960's flare, gold paneled ceilings and coral hues, walking into The Flamingo is like walking back in time.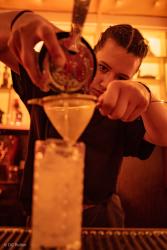 The classic steakhouse menu and new-age craft cocktail list elevates Seward's downtown restaurant locale by offering experience-based dining for locals and visitors to enjoy. Mixologist and friend of the owners, Jason O'Bryan, curated the cocktail menu, and bar manager Ettore Chiappa is expanding it with specialties like their watermelon margarita spiced with an in-house jalapeño tincture. From a selection of small batch farmed beef steaks, burgers, a variety of sides and of course, a Bucket of Butt, the a-la-carte style menu feeds Amex Black Card swipers and budget-savvy guests alike. Chef Randy Montoya recently returned to Alaska from the Las Vegas restaurant scene to design The Flamingo's menu.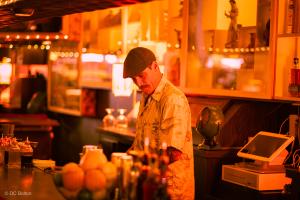 In keeping with the modernization of a classic establishment, KellyAnn and Matt have implemented a deposit-based reservation system to ensure guests can eat when they are hungry. Like many restaurants in the lower 48, upon reserving a table on Flamingoalaska.com, a $20 deposit is required, which will be deducted from the bill. Walk-in service is still available at the bar and in the newly expanded seating section at the chef's counter of the restaurant. The Flamingo is currently open seven nights a week from 5-11 pm, with plans to remain in operation throughout the winter, with an amended schedule. 
     With a business-model reminiscent of Van Halen's brown MnM test, Matt and KellyAnn are focused on the details that will foster an atmosphere for guests to have the best experience possible at their restaurant. They're deliberate in everything from staff training, guest services, menu selection, music, lighting and all the in-betweens. The Flamingo Lounge is different from anything you'll see on the Peninsula; a place to lose the time, to forget the weather, to put the phone away and to savor what's on your plate and those seated around it. When asked how they manage it all, parenting, full-time jobs and multiple businesses, KellyAnn remarks on her community: 
"We don't do it alone. Our staff works hard. It's a whole, collective effort, with everyone showing up."
                                           Thank you to Matt Cope and KellyAnn Cavaretta, for your Chamber Membership and for offering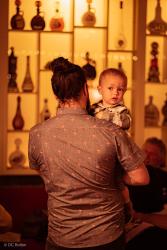 another delicious dining option for downtown Seward. We wish you the best of luck in your first season.
Here's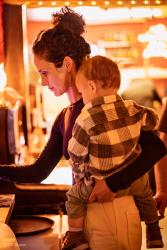 to doing more, together!
Photography by @Damons_Travels