It's a fair question: What's a coastal town located approximately 1,000 miles from Nome have to do with the Iditarod?
Although Seward's connection to Nome stretches back to the early days of the gold rush, our community also maintains a modern-day connection to the Iditarod race through some very special local residents. 
The Seward–Nome Route
The National Iditarod Historic Trail, first known as the Seward–Nome Route, actually pre-dates the famous serum run of 1925. The 2,300-mile trail system was originally developed to transport mail and supplies arriving by steamship in Seward's ice-free port to communities in the Interior during the gold rush era. 
Nome's port was ice-bound and inaccessible to steamships from November until roughly July each year. As a result, Seward was a critical link to the outside world for Alaska's northern villages. From 1909 until the mid-1920s, dog sled teams were the primary method of transportation along the trail. 
Today, you can access two portions of the historic trail near Seward:
From the Iditarod monument marking Mile 0 of the trail, a paved coastal walk north parallels the shore of Resurrection Bay for nearly a mile to the boat harbor.
Nash Road intersects with the trail at mile 2.1, where visitors can hike four miles north to Bear Lake. From that point north, the trail appears and reappears periodically as links between public use cabins and current hiking trails.
The 1925 Serum Run
By 1925, when the diptheria epidemic struck Nome, the newly-constructed railroad carried supplies arriving in Seward to Nenana, located 420 miles north. From Nenana, dog sled teams transported supplies the remaining 674 miles to Nome. This portion of the journey typically took 25 days.
Responding with urgency to the growing epidemic, the first relay of dog teams carrying an initial supply of the life-saving serum covered that same distance in less than six days. The treacherous trip was completed in extreme sub-zero temperatures, with blizzard-like conditions and hurricane-force winds. 
After an additional shipment of serum arrived in Nenana via Seward, a second dog sled relay was dispatched. The second relay took approximately seven days, and included many of the same drivers, and also faced harsh conditions. 
This heroic story is a catalyst for one of the fiercest races still held today; a partnership between man and dog that covers some of the harshest terrain in Alaska: The Iditarod. Today, the race begins in Willow, just north of Anchorage. 
Modern Day Mushers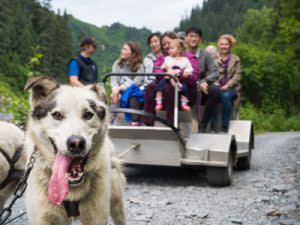 Seward's legacy in "The Last Great Race" endures with two local families that will participate in the 2018 Iditarod—including the reigning champion!
In 2017, Mitch Seavey and his son, Dallas, brought home the gold and silver respectively in a finish that is almost becoming routine. A Seavey has won the Iditarod since 2012, with the other often coming in close second.
Mitch's kennel is located on the outskirts of Seward, on the family homestead near Exit Glacier. Seavey's Ididaride educates guests about an important mode of transportation in Alaska from some of the best mushers in the state. In the summers, they offer visitors rides around their property on wheeled sleds pulled by champion canines athletes.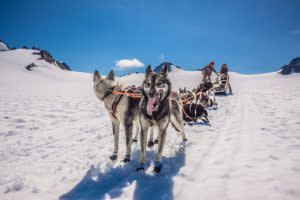 Four-time Iditarod finisher Travis Beals and his partner Sarah Stokey also offer visitors a chance to meet their racing dogs at Turning Heads Kennel. In addition to wheeled rides on their property, Turning Heads offers a helicopter-accessible dog sled tour of Godwin Glacier. There, a team of dogs spends the summer giving visitors snowy sled rides with stunning views overlooking Resurrection Bay.
Feature Image: Three-time Iditarod winner and Seward resident, Mitch Seavey. Photo: Seavey's Iditarod Racing Team/Seavey's Ididaride Tours
For more information about Seavey's Ididaride call 907.224.8607.
For more information about Turning Heads Kennels call 907.362.4354. 
Want more information about Seward or our Chamber of Commerce? Call 907.224.8051.