By Kat Sorensen
The article was first published by The Seward Sun on Jan. 25, 2019. It is reprinted here with permission. 
More than 20 years ago, Christy Hill of Homer set off for Girdwood's Slush Cup but encountered a few problems. She was months early. And she went to the wrong town. Hill and a friend found themselves standing along the ramps of the Seward Harbor watching as costumed men and women jumped into the frigid waters of Resurrection Bay. "We were watching along the ramps and our pants were freezing to our legs, we were freezing," Hill said. "We thought 'this is not what we thought it would be at all, but this is fun.'" As soon as Hill finished the drive back from Seward to Homer, she started fundraising for next year's event and has been involved in the Seward Polar Bear Jump ever since. Her first jump was in 1999, and this year she'll be celebrating her 20th year as a plunger. "My mom is a cancer survivor so when I saw the event, I thought I might as well try it," she said. "That first year, we all sat on our boat waiting our turn and I was kind of nervous." As those torturous moments ticked off, it didn't help that a diver on hand to assist plungers developed a leg cramp. "I told my dad, 'nope, not doing it. No way.' But the diver got back in the water and so I did it. I jumped," Hill said. "It was scary, but much less painful and traumatic than anything the cancer patients are going through."
This year, Hill said she has a longer list of people she's jumping for including her husband's adoptive and biological fathers.  "They both passed away in less of a month of each other," she said. "That's a big drive for me. Another friend of mine got cancer last year and is doing great. He is cancer free and back home living his best life … That's huge of me to see. I want to help find a cure and help families that can't afford to help themselves." The Seward Polar Bear Jump was first held in 1986 and is an opportunity to honor cancer survivors, raise awareness about reducing cancer risk and to raise money for the American Cancer Society. Fundraisers work all year to raise funds, culminating in a quick jump into the bay on the third Saturday of January.
"I've been raising money every year. The first year, I raised $1,055 but was in tenth place for fundraisers," she said. "I've been raising more money every year and I'm close to $250,000."
Hill has had some donors that have been supporting her every year, including Dr. Sue Polis of Homer, Deb Leisek of Bay Realty in Homer and the American Legion.
Jumpers dress up in costumes of all types, and after 20 years Hill's costume closet has grown to include a Gumby costume, a flirty sailor uniform and more. Her fundraising total has been growing over those 20 years too.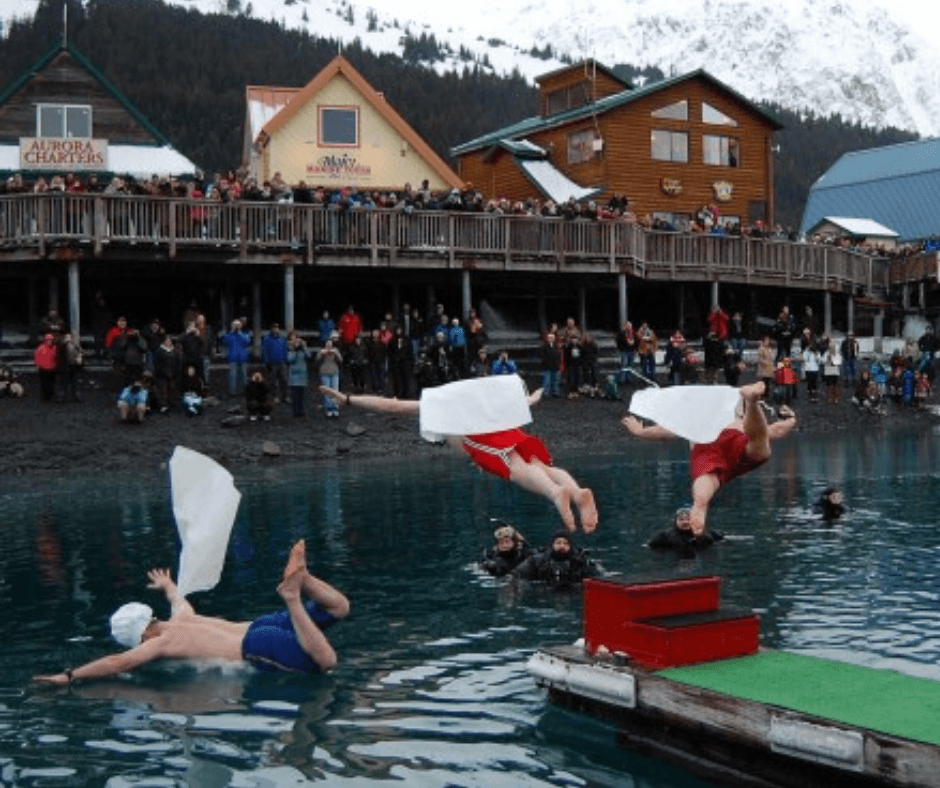 This year, Hill has raised about $5,000. She said she's excited to see some of her fellow jumpers and spend the weekend partaking in the fun activities in Seward. She's happy, though, that the weather isn't too frigid.
"The absolute scariest year was the time it was 27 below zero with wind chill," she said. "It was so cold, the water was in the mid 30s and I made the mistake of wearing a hoodie. When I got out it pretty much froze to my body. It took a long time to get my clothes off after because it was so heavy."
For Saturday's jump, Weather Underground is calling for a balmy 35 degrees with a water temperature at about 43 degrees.
"I love doing it, it's fun," Hill said. "People tell me I'm crazy, but what else am I going to do to release the winter blues?"
This year's jump on Jan. 26 is surrounded by a weekend of fun and festivities throughout Seward. The main event, the jump, starts at 12:30 p.m. at the Seward Harbor on Saturday.
For those looking to shake off the winter blues with this weekend's festivities throughout Seward a full schedule can on Facebook at Polar Bear Jumpoff Festival.
Read more local news and events on the horizon The Seward Sun.