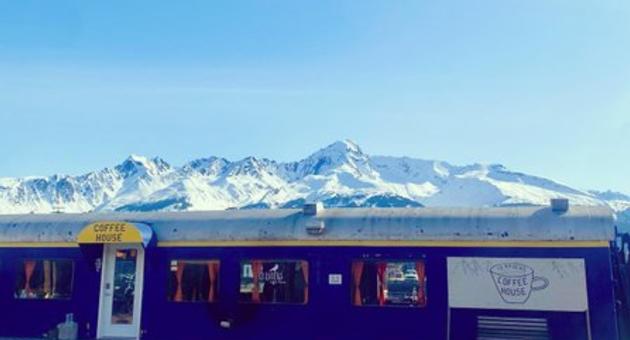 From drive through huts to cozy cafes, Seward's coffee scene is steaming hot! Follow this crawl and find your favorite cup...
Traveling North to South, here are our favorite espresso stops:
The Mudd Hutt - 11748 Seward Highway
Fuel up from the long drive south with coffee and snacks at The Mudd Hutt, a drive through located on the northbound side of the highway.
KOA Seward - 31702 Herman Leirer Road
Located inside KOA campgrounds visitor center, you'll find an espresso machine tucked in the corner. Stop by for a beverage to sip on while you wind your down Exit Glacier road.
Seward's Cup - 1915 Seward Highway
Try this drive through option for a quick pick-me-up at Seward's Cup, located on the south bound side of the highway.
13 Raven's Coffee & Books - 411 Port Avenue
Explore "The Train Wreck," repurposed Alaskan Rail Road train cars, home to 13 Raven's coffee and book store.
Harbor Street Creamery - 306 S Harbor St
Treat the kids to a cone, and yourself to a coffee, at this sweet harbor stop.
Coho Joe's Dockside Coffee - 1302 4th Ave
Situated on the south end of the Seward Harbor docks, grab a smoothie, coffee or snack on your way to our satellite visitor center, located next door to Coho Joe's coffee.
Elevation Zero - 4th Avenue, across from The Gateway Hotel
This food truck, parked at the south end of The Seward Harbor, is serving up strong coffee and acai bowls. Try a plant-based energy Lotus before you start a stroll down the Waterfront path.
Resurrect Art - 320 3rd Avenue
Resurrect art, once a downtown church, has been renovated into Seward's coziest coffee-house and bakery. Pass a rainy afternoon with a latee and house-made treat.
Frontier Trading Post - 233 4th Avenue
Locals refer to this wholesome shop as "the natural store," Seward's only Health Food & Specialty Grocery which offers coffees, robust smoothies, house-made sandwiches, salads and soup.
The Sea Bean Cafe - 225 4th Avenue
The Sea Bean Cafe is a proper cafe with a breakfast menu and quick treats to caffieinate you for a day on the town.
The Ranting Raven - 238 4th Avenue
The Ranting Raven brews a delicious cup of coffee nestled in the back of their art gallery and gift shop.
Sweet Darlings - 205 4th Avenue
Sweet Darling's, coveted for their chocolates and fudge, also offers tasty coffees, bubble teas, kumbucha, ice cream and more!
Zudy's Cafe - 501 Railway Ave
To accompany your latee, Zudy is serving delicious soups, sandwiches and house-made desserts in a historic Alaska Railroad building.