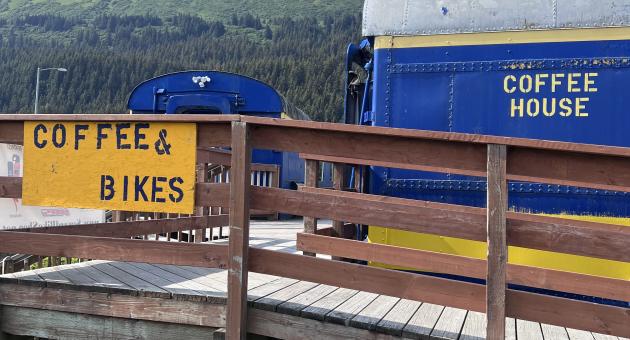 Difficulty

Easy
From drive-through huts to renovated train cars, Seward's coffee scene is steaming hot! Follow this crawl and find your favorite cup...
Traveling North to South, here are our favorite espresso stops:
The Mudd Hutt - 11748 Seward Highway
Fuel up from the long drive south with coffee and snacks at The Mudd Hutt, a drive-through located on the northbound side of the highway.
KOA Seward - 31702 Herman Leirer Road
Located inside KOA campgrounds visitor center, you'll find an espresso machine tucked in the corner. Stop by for a beverage to sip on while you wind your way down Exit Glacier road.
Seward's Cup - 1915 Seward Highway
Try this drive-through option for a quick pick-me-up at Seward's Cup, located on the south bound side of the highway.
Summit Sips - 411 Port Avenue
Explore "The Train Wreck," a business scene of repurposed Alaskan Railroad train cars, home to Summit Sips. It is located at the harbor, close to where you queue up to embark on a Major Marine Tour or Kenai Fjords Tour.
Harbor Street Creamery - 306 S Harbor St
Treat the kids to a cone, and yourself to a coffee (or a brownie sundae!), at this sweet harbor stop.
Coho Joe's Dockside Coffee - 1302 4th Ave
Situated on the south end of the Seward Harbor docks, grab a smoothie, coffee or snack on your way to our visitor center, located next door to Coho Joe's Dockside Coffee.
Resurrect Art Coffee House- 320 3rd Avenue
Resurrect Art, once a downtown church, has been renovated into Seward's coziest coffee-house and bakery. Pass a rainy afternoon with a latte and a fresh-baked pastry.
Frontier Trading Post - 233 4th Avenue
Locals refer to this wholesome shop as "the natural store," Seward's only Health Food & Specialty Grocery which offers coffees, robust smoothies, house-made sandwiches, salads and soup.
The Sea Bean Cafe - 225 4th Avenue
The Sea Bean Cafe is a proper cafe with a breakfast menu and quick treats to caffeinate you for a day on the town.
The Ranting Raven - 238 4th Avenue
The Ranting Raven brews a delicious cup of coffee nestled in the back of their art gallery and gift shop.
Sweet Darlings - 205 4th Avenue
Sweet Darling's, coveted for their chocolates and fudge, also offers tasty coffees, bubble teas, kombucha, ice cream and more!
Zudy's Cafe - 501 Railway Ave
To accompany your latte, Zudy's is serving delicious soups, hot or cold sandwiches and to-die-for desserts (you have to try the cheesecake) in a historic Alaska Railroad building.