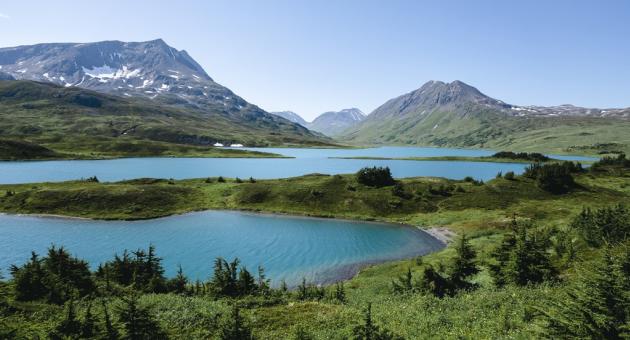 Difficulty

Difficult

Distance

14 ml

Duration

7 hr

Ascent

2600 ft
Best Time of Year: Apr 30 - Nov 01
Although the Lost Lake trail can be enjoyed a number of ways, we will tell you about our favorite!
You'll find the trail head by turning on Rough Drive from the Seward Highway, near the Bear Creek Fire Department. Parking at this southern trail head will win you elevation quickly, as you tromp upwards through a spruce and hemlock forest. Don't be deterred by what locals refer to as "The Wall," the steepest section of the hike, because once you've gotten up The Wall, spectacular views of Resurrection Bay open before you.
Keep the upward momentum going as you approach Dale Clemens Cabin, a public use dry-cabin that can be booked online at recreation.gov. The trail continues on through a beautiful valley, lined with blueberry bushes, wild flowers and mountain views, eventually landing you at Lost Lake.
The summer trail is open to mountain bikers, hikers and dogs. When the snow-falls, it becomes a popular snow-machine trail.