Special events and deals await at Seward's Second Saturday!
Winter transforms Seward from a bustling visitor hub to an oasis for Alaskans to play and recharge. To celebrate this special season, we've launched Seward Second Saturdays, a community-wide event scheduled for the weekends of Jan. 13, Feb. 10, Mar. 10, and Apr. 14. Enjoy quieter trails, fun activities and special discounts before the crowds return!
In anticipation of Valentine's Day, we've developed an itinerary for couples looking for a low-key, luxurious getaway or for individuals looking to melt away stress and rejuvenate their mind, body, and soul.
FRIDAY
Know Before You Go
Seward Highway is generally well maintained, but it's always a good idea to check the travel conditions before you hit the road. Make sure your winter car emergency kit is well stocked before you leave home.
As you arrive in town, pick up a map of local businesses participating in Seward Second Saturdays. You'll find them Harbor 360 Hotel, your lodging provider (see more options below). We highly encourage booking spa services ahead of your trip for the best availability. 
Evening – Dinner and a Movie
Kick-off your weekend escape with a meal that you won't soon forget. Chef Kevin Lane sources local ingredients at The Cookery (209 5th Ave) to design creative dishes that capture the essence of Alaska. Fact: Foodies from around the state have been known to make a special trip to Seward just for dinner at the Cookery!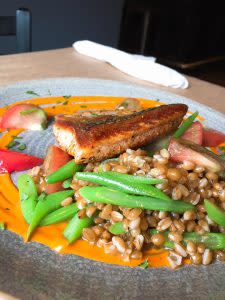 Sip a glass of perfectly paired wine while waiting for your appetizer—the mushroom toast and brussels sprouts are local favorites—and take in local artwork. Dinner specials often highlight fresh seafood and other Alaskan delicacies. 
Between courses, check out incredible art by local artists Bethany Waggoner and Justine Pechuzal. Your visit to this popular local eatery wouldn't be complete without trying Chef Kevin's cream cheese ice cream. Guild the lily by adding bacon. Yes, to your ice cream. Trust us on this. 
Plan to eat dinner on the early side if you're interested in checking out one of Seward's best-kept secrets: The Skip & Marie Fletcher Winter Movie Series. This volunteer-run event features second-run movies for just $2. On Friday, Feb. 9, catch "The Red Turtle" at 6 pm or "Battlecreek" at 8 pm. 
SATURDAY
Morning – The Ultimate in Pampering
First, make like a local and head to Resurrect Art Coffee House to enjoy a lovingly-made espresso or rejuvenating tea. Soak up the light streaming in through the historic windows—the building, formerly a church, celebrated its 100th birthday last year—and browse jewelry, ceramics, and other art made by Seward residents. 
Next, it's time to treat yourself. The Retreat, Seward's only full-service spa, offers indulgences from manicures to full-body massages. A relaxing Tulasara facial ($85, 60 minutes) will leave your skin hydrated and refreshed. Many of the facials and massages include complimentary use of the sauna to flush toxins and a shower to energize you before heading out in into the world. 
Been spending too much time on the computer lately, or have a nagging injury? You might opt for a signature hot stone massage at Three Peaks Massage, a tranquil oasis located downtown ($60/hr). Soft-spoken owner Sarah Hermann focuses on a whole-body approach to wellness that will melt away stress.
Afternoon – Shake & Shop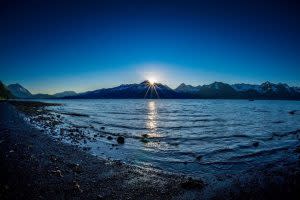 Whether you're looking for a lighter lunch or something warm and comforting, you'll find it at Woody's Thai Restaurant. Named after the iconic SeaLife Center's playful sea lion, Woody's offers fresh, nourishing dishes of Southeast Asia. Start with some crisp summer rolls and share some local favorites like the Tom Yum Soup or Penang curry.
From Woody's, take a leisurely walk along the paved waterfront path. A short stroll downtown offers stunning views of the fjords and peek-a-boo vistas of Godwin Glacier across Resurrection Bay. Here, sea lions and seals spy on visitors near the shore and you'll often find an otter munching on shellfish from the rocky bottom of the bay.
Located two blocks from the waterfront in downtown, 5th Avenue Fitness (321 5th Ave.) offers a free day pass for visitors on Second Saturdays. Their belly dancing class (1:30 pm) offers guests of all ages a chance to unwind and let loose to the sounds of the East.
Next, head to historic Fourth Avenue to browse the unique collection of shops in our downtown district. Step inside Seward's newest retail store, Brown and Hawkins Mercantile which offers a selection of handcrafted goods and jewelry made in Alaska. Browse through items such as Tlingit Botanicals health and beauty products or Happy AK headbands in a setting reminiscent of the early 1900s.
Across the street is Seward's oldest family-owned business, Urbach's Clothier, which offers unique clothing lines and shoes for men, women, and children. Look for Second Saturday deals inside! 
A few doors to the north, drop into A Flyin' Skein to browse a variety of colorful textiles and try your hand at a "make-and-take" cross stitch project for $5.  
Need an extra Valentine's Day gift or two? You'll find the perfect treat at Frontier Trading Post. Owner Kerry Romig sources delicious chocolates from around the world, all of which are 10% off on Second Saturday. You'll also find practical and indulgent gifts like JACARA therapeutic skin care, made right here in Seward!
Evening – Get Artsy