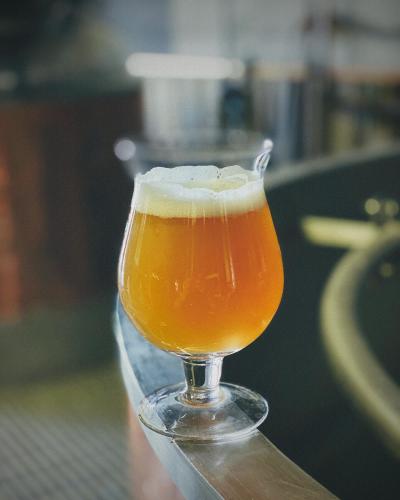 From beer geeks to food nerds, and from locals to tourists from around the world, the Seward Brewing Company is the perfect place to find something a little different right in downtown Seward.
As the only brew pub in town, the Seward Brewing Company team are pros at pairing. Try out a flight of beer to taste a selection of locally brewed beers, created in-house by the adventurous Seward Brewing Company team and pair it with a Neapolitan wood fired pizza or house-made pretzel. We promise, you'll be floored by the full flavor of their inventive modern-coastal pub cuisine and craft brews.
"[The food] is all done with passion and love, and it all pairs with some delicious brews," explained chef Erik Slater, who owns and runs the Seward Brewing Company with Hillary Bean. "We are married and are business partners so this is as mom and pops as it gets," Slater said. "We work hard to find unique ingredients and products and collaborate with our amazing staff to bring new ideas to Seward. Every year we try to make it better than before by putting everything back into the business and we love what we do."
This year, be on the lookout for some new brews, a hard seltzer, and a brisket burnt-ends pho dip sandwich, in addition to the Brewing Company's already delectable menu.
Learn more about the Erik, Hillary, and Seward Brewing Company below:
What do you like most about living and working in Seward?
The community hands down. We love being downtown right at the finish line of Seward's Mt.. Marathon Race, being right on the ocean and those amazing views .
Tell us about a product or service that you're particularly proud of.
This is a two part answer. First - the TK-421 Imperial milk stout . This is our best beer. It's a big milk stout that you can drink for dinner and dessert and makes us sad when it's all gone. Second- our wood fired pizzas. We brought in a wood fired pizza oven from Italy and used local birch wood to bring a different and unique pizza style to our customers. We love that oven and the pizzas that come out of it.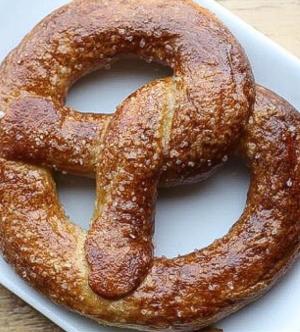 What is the best compliment your business has ever received?
When a couple who came off the cruise ship saw our Pride flag in the window and were so stoked to come in and experience such a welcoming and accepting place in Seward. And every time we get a compliment about our awesome staff, because without them, we don't exist.
Tell us about a community member in Seward who you admire.
Anthony Ka'aumoana Baclaan - He gives so much to the community here in Seward from his seat on city council to Pride Alliance to his crazy good food, just to name a few.
How do you spend your free time?
We are very fortunate to spend time as a family in the winter. Traveling for us is a big one. Cooking, entertaining, camping and checking out other breweries.
What advice would you give to a new business owner who is working to build a business like yours?
Don't do it ! :) Seriously though. Do what you love. Make food and beer that reflect who you are. Express yourself. Don't be like the guy next door. Make a niche. And most importantly, learn how to fix things....because everything in your place will break at some point !