Seward's Fourth of July Festival isn't one to miss! 
Our vendor application is linked below, please signup for your spot at your earliest convenience.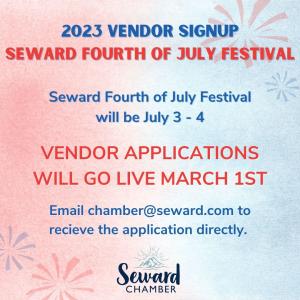 Click here if you are a NEW vendor. 
Click here if you are a RETURNING vendor from last year.
            If you are a returning vendor but can't remember your login information please contact  Karen Cooper Mcloughlin by calling (907) 224-8051 or email chamber@seward.com before making a new  account. 
Prices:  
10' x 11' space w/ NO electricity: $450
10' x 11' space w/ electricity: $500
Premium Corner Space: $550     
City Garden Lot: $350                        
Nonprofit Booth Space $50